Korean Karaoke Culture: Everything You Need to Know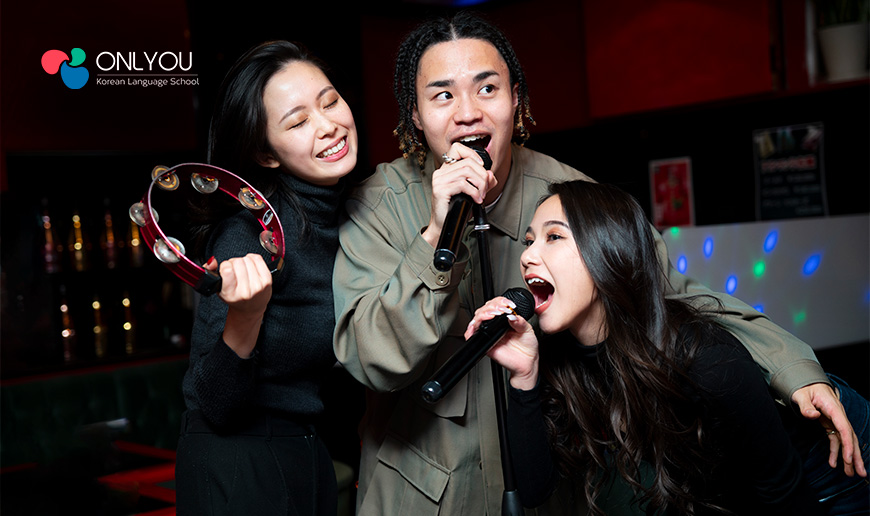 Step into any neighbourhood in South Korea and you'll likely see at least one karaoke room bustling with business. Known as a 노래방 (no-rae-bang), it is where you'll hear sounds of laughter, music, and the occasional off-key singing reverberating through the air as friends, colleagues, and families gather to belt out their favourite songs. In this article, we'll explore the captivating world of Korean karaoke culture and share with you everything you need to know about enjoying Korean karaoke.

Korean Karaoke Culture
A noraebang (노래방), formed by the words 'sing' (노래 no-rae) and 'room' (방 bang), means a room to sing. Going to a noraebang is a culture deeply ingrained in the social fabric of South Korea, and is one of the most popular ways for Koreans to relieve stress. Whether it's for a corporate gathering, birthday celebration, or a fun outing with friends, heading to the karaoke is a norm in South Korea.
These rooms are usually equipped with state-of-the-art audiovisual systems, including large screens, wireless microphones, and an extensive library of songs in multiple languages. Some of these karaoke establishments even offer food and beverages like fried rice and cup noodles, and/or themed rooms for you to choose from.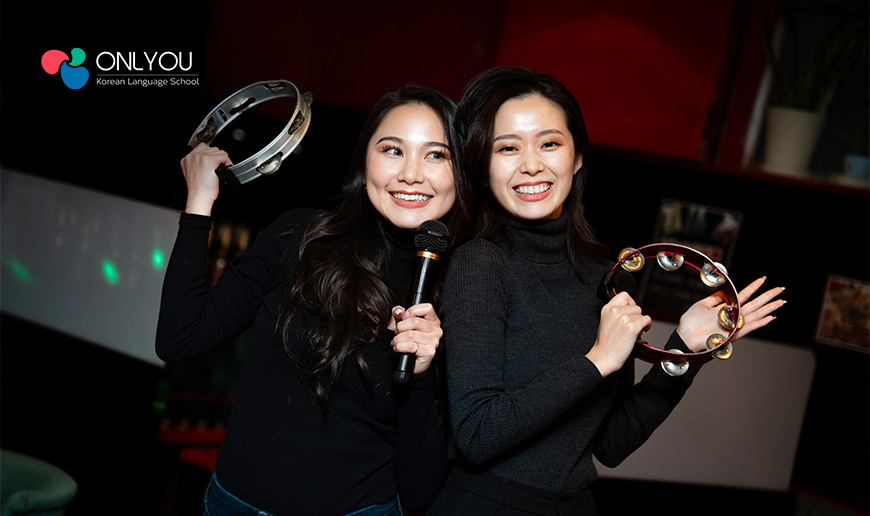 Besides spacious rooms for bigger groups, there are also smaller ones known as coin karaoke rooms (코인 노래방 ko-in no-rae-bang), or 코노 (ko-no) for short, for the individual singer. In such rooms, users can pay in small amounts and sing as they go, and add onto the time by simply inserting more money into the system.

Korean Karaoke Etiquette
When in a Korean karaoke with native Koreans, there are a few etiquette rules to follow to ensure a respectful and enjoyable experience.
Take Turns: Korean karaoke is often a communal activity. Be mindful and take turns to sing such that everyone can get a chance to participate. 

Respect Others: Be considerate by keeping your voice at a reasonable volume and avoiding excessive screaming or shouting. 

Choose Appropriate Songs: Select songs that are well-known and popular to engage the group. Avoid songs with explicit or offensive content that may make others uncomfortable.

Support Performers: Applaud and encourage others before and after their performance. Sing along, dance, and show enthusiasm to create a positive and uplifting environment.

Observe Basic Manners: Follow general etiquette rules, such as not talking loudly during someone else's performance, not interrupting others, and cleaning up after yourself. Treat the karaoke room and equipment with care.
Korean Karaoke System
Unlike in Singapore, where most karaoke systems have touch screen panels for you to search singers and song titles, Korean karaoke systems usually come with a huge controller that resembles a large calculator featuring various buttons. There will also be a thick songbook users can flip through to find song titles and their corresponding serial numbers. This machine can be used to control various things. They include:
Pitch adjustment
Tempo adjustment
Music volume
Echo adjustment
Reverb adjustment
Rhythm change
Music sheet display
Voice search
Voice removal
Background video choice
Pause
Title search
Artist search
Country change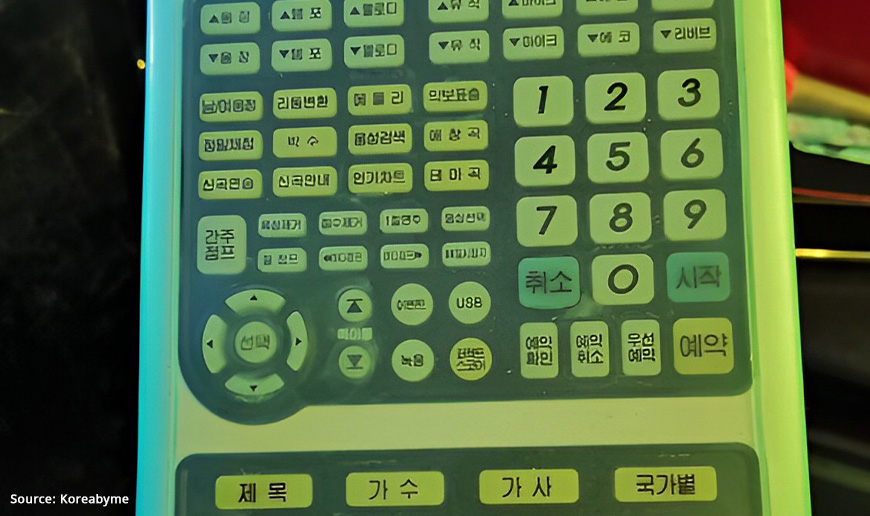 Source: Koreabyme
To search for a song, use the buttons at the bottom of the machine. These buttons contain hangul consonants and vowels that allow you to type out the song title or artist name. Otherwise, you may find the song title in the songbook and enter its five digit serial number. Then, press the 'start' (시작 si-jak) button to start the song.
Learn More: All About Hangul: The History of Hangul

If you wish to queue another song, simple search for the song and press 예약 (ye-yak), which means reserve. If you want to push the song to the start of the queue, simply press 우선예약 (u-seon-ye-yak), which translates to first reservation.
Want to see the songs you've placed in the queue? Look for the button that says 예약 확인 (ye-yak hwag-in), which means confirmation of reservation. To remove a song from the queue list, look for the song in the list and press the button that says 예약 취소 (ye-yak chwi-so), which means cancel reservation. These buttons are located right below the number pad.
Find it challenging to use the Korean KTV remote? Simply key the singer name or song title into the search bar in this website and it'll generate the correct song code for you.
If you're paying for the karaoke room by the hour, do take note of the time and vacate the space when your time is up. This is so that the operator can clean up in time for the next guests' use. Usually, the amount of time you have left in the room will be displayed at the top of the TV screen.
Want to experience a Korean karaoke in Singapore? 82soho at Orchard Gateway offers an authentic Korean noraebang experience! Every KTV room at 82soho also comes with a photo containing the translation of each remote button so you won't have to worry about not knowing how to use the controller.
---
Interested to learn more about Korean culture or the Korean language? ONLYOU Korean is a Korean language school in Singapore offering Korean language courses for learners of all levels. Whether you want to learn Korean online or physically at a school, we have the course for you. Find out more here.