All You Need to Know About Learning Korean in Singapore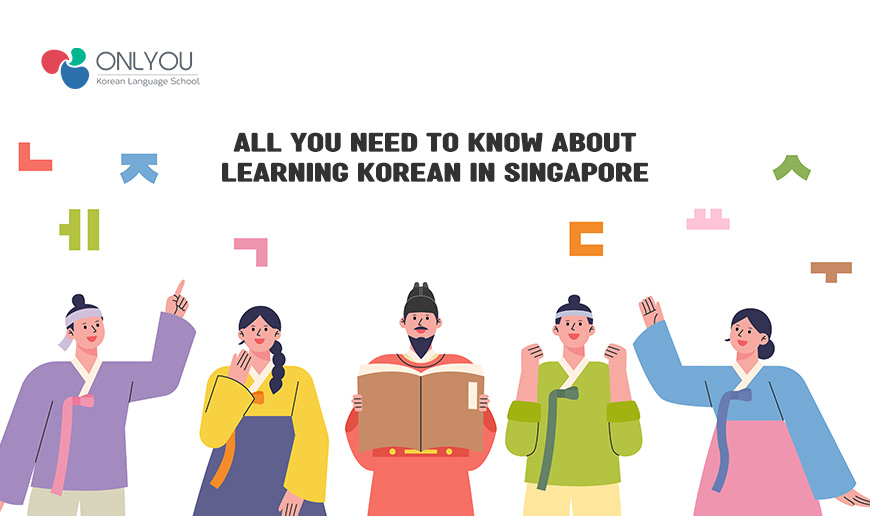 The Korean wave, also known as Hallyu wave, took the world by storm and captivated millions with its mesmerising blend of culture and entertainment. Its prominence has grown significantly over the years, exposing people worldwide to Korean culture. Whether it's the delectable flavours of Korean cuisine or the addictive plotlines of Korean dramas, the Hallyu wave has infiltrated our lives, changing the way we live.

One of the effects of Hallyu is the growing number of individuals seizing the opportunity to learn the Korean language. If you find yourself drawn to all things Korean too and are eager to immerse yourself in its culture, this article serves as your gateway to learning Korean in Singapore. Find out all you need to know about picking up the language on our sunny island, and what future awaits you when you successfully master this tongue.
LEARNING THE KOREAN LANGUAGE
1.1. Why You Should Pick Up Korean Language
Regardless of why you're considering learning Korean, choosing to learn the Korean language can be very advantageous in today's day and age. There are also numerous benefits that come with picking up a second language. Here's why.

a. Ease of Communication when in Korea
Is Korea one of your favourite countries to travel to? If yes, then you'll definitely love the convenience that comes with mastering Korean. Unlike languages that make use of the alphabet, such as English, Italian, and French, which can be easily read and keyed into a translator, the Korean language has its own unique writing system that foreigners will struggle to read or interpret. This makes it difficult for anyone to navigate the country if there are no English signs.
By picking up the Korean language, you become less of a spectator and more of an active participant in the vibrant tapestry of Korean life. You learn to read the words around you and converse with native Koreans to find your way through bustling markets, transportation networks, forge new, genuine friendships with locals, and fully immerse yourself in the Korean way of life.

b. Easily Understand and Consume Korean Content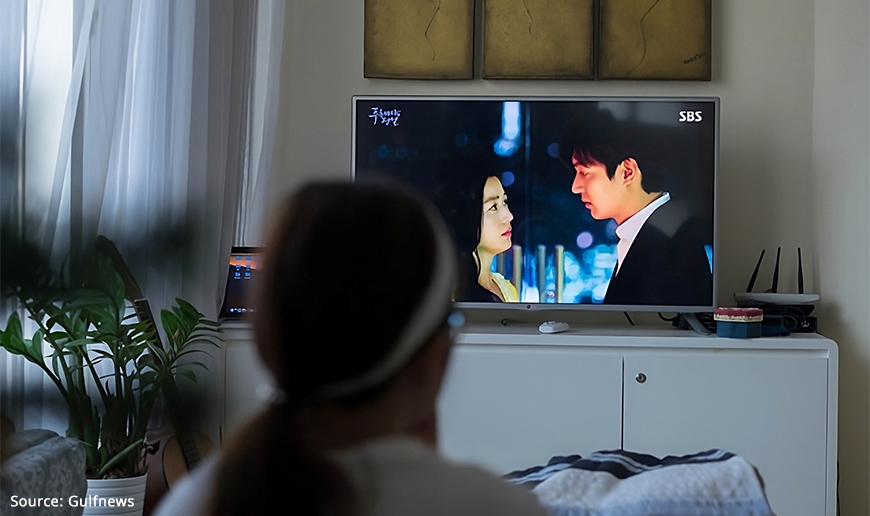 Source: Gulfnews
Korea is known for its addictive Korean dramas, catchy pop songs and engaging variety shows. On top of content from mainstream channels, there are also web dramas, books, YouTube videos, TikTok videos, and many other content one can consume from Korea. But in order to understand what you're watching, reading, or listening to, you'll need to either learn the Korean language or wait for translations or subtitles to be released.

But what if you can understand what's going on without relying on translations? Translations cannot deliver nuances of the language accurately, and it is only through your own comprehension of the language and culture that you can pick these details up. Learning Korean lets you connect with the content and the creators directly, even gaining deeper insights into the culture, emotions, and inspirations that shape the Hallyu wave.

c. Futureproof Yourself

Apart from leisure purposes, mastering the Korean language can be helpful to your professional life too. It can be the key to a multitude of possibilities in the land of Korea, where its groundbreaking advancements and wide range of opportunities can bring you to new horizons.

Korea is named the most innovative country in the world by Bloomberg, and is a significant player in world affairs. Their pursuit of innovation has birthed revolutionary technologies and transformative startups, offering plenty of new roles to people from around the world, and even made the country an enticing destination for businesses.

By immersing yourself in the language and culture, you gain a firsthand understanding of the Korean mindset, work ethic, and business practices that can be invaluable in the workplace.

Learning Korean also presents you with a competitive edge in fields such as technology, trade, finance, marketing, tourism, and more. Additionally, fluency in the language will open doors to job placements, making employment with Korean organisations possible. New business opportunities with Korean corporations that have established a global presence may also arise, offering you a dynamic and rewarding career trajectory.

Future proofing yourself by learning the Korean language is truly a visionary step and one that will put you in a strategic advantage.

d. Enjoy Benefits of Learning a New Language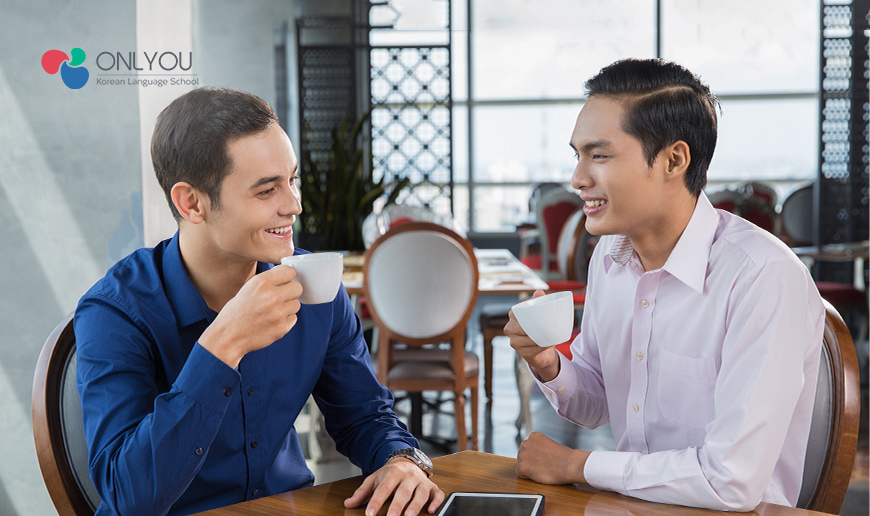 Whether you're learning Korean or another language, picking up a new tongue boasts numerous advantages that can be very beneficial for you.

Scientific studies have shown that language learning and linguistic exercise stimulates the brain in many ways, forming new neural connections that stretch your brain's capabilities and fuel intellectual growth. This improves memory retention, problem-solving abilities, and overall mental agility.

Learning a new language also increases your opportunities for cultural exposure, allowing you to venture into the rich cultural heritage of the country and cultivate a deep appreciation and understanding for the customs and traditions, values, and aesthetics that shape Korean society. This broadens perspectives, allowing you to see and do things differently, as well as enhances your ability to connect with people from diverse backgrounds.
Learn More: The Benefits of Picking Up a New Language
1.2. Should You Enrol in a Korean Language School?
If you're captivated by Korean culture and would like to dive deeper into the world of the Korean language, enrolling in a Korean language school can offer a structured and immersive experience that accelerates your language learning journey. Here's why you should learn Korean in a language school instead of via self-study methods.

a. Structured Curriculum
Language schools typically follow a well-structured curriculum that ensures a systematic and logical progression in your learning journey. The lesson programmes designed by qualified Korean teachers are useful in helping you pick up information and linguistic skills in the correct order, gradually building upon your knowledge, starting from basic grammar and vocabulary to more complex linguistic structures. Self study often lacks this organised approach, which makes determining the most effective learning path challenging. Without the proper guidance and roadmap, it is easy for you to lose track of your progress and miss out on key information you need to learn.

b. Immersive Experience

Korean language schools offer an immersive learning environment that allows you to practise your language skills in authentic settings, surrounded by fellow learners and native-speaking Korean teachers. The constant exposure to the language helps you to absorb cultural nuances, idiomatic expressions, and contextual usage that the textbook cannot convey. This promotes fluency, improves listening abilities, and builds speaking confidence.

Language learning is also seamlessly integrated with cultural exploration programmes that give you a holistic understanding of both the language and the culture. Korean lessons may include topics such as traditional customs, history, literature, music, and cuisine, broadening your knowledge and deepening connection to the language and the country.

c. Gain Accurate Information

While self study can be rewarding, a Korean language school provides you with a wealth of resources, guidance from certified Korean teachers who have undergone rigorous education and training, and a reliable support system that self studying cannot give you. It ensures you receive accurate and up-to-date information on the language, and helps you to learn more efficiently.



Source: Wheretokim
In a school environment, you'll also be receiving feedback and correction from your Korean teachers to ensure that any mistakes in all aspects of your language learning journey are promptly identified and corrected. This eliminates potential misunderstandings that can lead to poorly developed language skills.

d. Meet New People

A school serves as a vibrant hub for individuals from diverse cultural backgrounds to unite through their common passion for learning Korean. You'll get to meet new people, interact, and forge new friendships with others. Such interactions not only strengthen language skills but also foster genuine connections and friendships, as students support and motivate one another on their language learning journeys.
1.3 What to Expect When Learning Korean?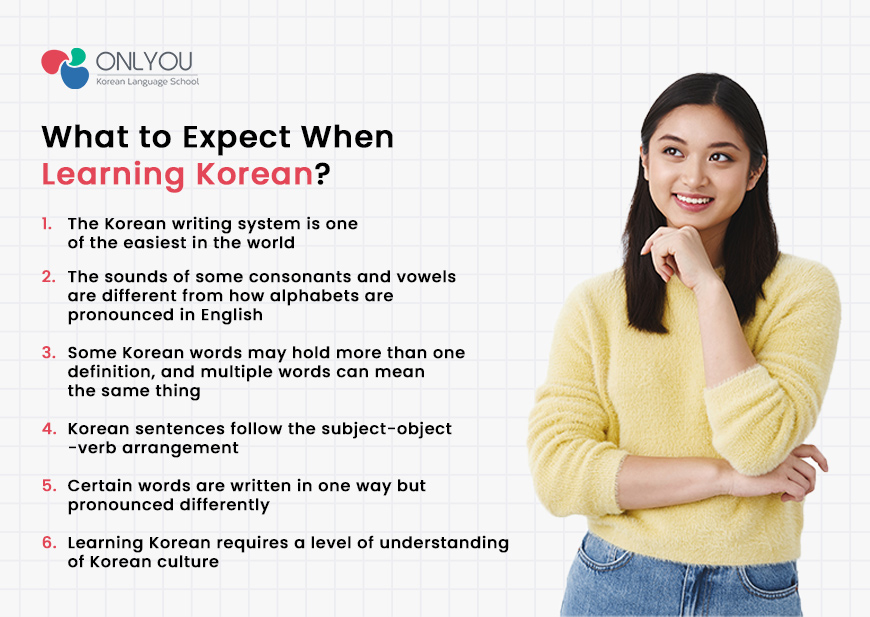 The Korean writing system, called Hangul, consists of 14 basic consonants, 5 tense consonants, 10 basic vowels, and 11 complex vowels. Although hangul is one of the easiest writing systems in the world, the sounds of certain consonants and vowels are different from how alphabets are pronounced in English, and will require constant practice to grasp. The list of vocabulary words is also extensive—some words may hold more than one definition and different words can hold similar meanings.
Korean sentence structure differs from English. It follows a subject-object-verb arrangement instead of the subject-verb-object sequence we're familiar with. There are also various levels of politeness and honorifics to consider when you're forming your sentences, especially when speaking with or writing to an elder or a senior/superior in the school/workplace.
Certain words can also be written and spoken differently. For example, 네가 (nega), which means you, should be pronounced as 너가 (neo-ga) when spoken.
Learning Korean requires a certain level of understanding of Korean culture. Language and culture are intertwined, so possessing information about Korean customs, traditions, and social etiquette will enhance your ability to easily grasp the language.
AFTER PICKING UP THE KOREAN LANGUAGE
2.1. 7 Career Options for those Proficient in Korean Language
Learning the Korean language doesn't just help you better understand and consume Korean content. It can even open up career opportunities for you not just in Korea but also in other countries. Some options available to you include:
Korean translator or interpreter
Positions in Korean MNCs, or global MNCs with offices in Korea
Korean language teacher in Singapore or English language teacher in Korea
Export houses and businesses
Positions at the Korean embassy
Tourism and hospitality industry
Content writer and editors

It is important to note that it is extremely challenging for a non-native speaker to teach Korean as a foreign language. There are numerous requirements to meet, and certificates to obtain. However, teaching English as a second language in Korea to native Koreans is still an achievable position.
2.2. TOPIK: What is it and Why You Should Take this Test
Before you can begin working in Korea or in a Korean corporation overseas, you'll need to first go through a test known as TOPIK, which stands for Test of Proficiency in Korean. It is a standardised Korean language test for those who wish to work or study in South Korea, including native Koreans who have lived overseas for many years and non-native speakers of the Korean language. This test is conducted by the National Institute for International Education that operates under the Ministry of Education and is offered a few times a year in various countries including Singapore.

The purpose of the TOPIK test is to assess and certify the language proficiency of individuals who are learning Korean as a foreign language. It evaluates their abilities in reading, listening, and writing, and is designed to measure candidates' overall communication skills and understanding of the Korean language.

TOPIK is divided into two levels—TOPIK I and TOPIK II—that tests different aspects of a person's Korean language proficiency. TOPIK I is further divided into sublevels one and two, testing only reading and listening, while TOPIK II is divided into four other sublevels three, four, five, and six, testing reading, listening, and an additional writing portion. Test takers will be given a level between one to six based on their total score. The six possible grades include:
Level 1: Low Beginner
Level 2: High Beginner
Level 3: Low Intermediate
Level 4: High Intermediate
Level 5: Low Advanced
Level 6: High Advanced

In order to be considered for a job position or to enrol into a university in South Korea, one must score at least a level four on the TOPIK. Hence, if you'd like to pursue opportunities in the country, TOPIK is an important test to take. It can also put you in advantageous positions such as these:

a. It Increases Your Chances of Obtaining a Scholarship
Many educational institutions in Korea offer scholarships specifically for international students. But these scholarships often require applicants to demonstrate proficiency in the Korean language. With a high TOPIK score, you can significantly increase your chances of receiving scholarships, which is a financial aid that can alleviate the burden of tuition fees and living expenses.

b. Gives Your Career a Boost

Proficiency in the Korean language can open doors to various career opportunities, and being able to produce a high TOPIK score will prove to employers that you can be a valuable asset, making you a desirable candidate for companies seeking bilingual or multilingual employees.

c. Puts You in a Better Position if You Wish to Move to Korea

If you aspire to live and work in Korea, taking the TOPIK can greatly affect your immigration process positively. The Korean government often requires individuals to prove their Korean language proficiency for visa applications or work permits. By obtaining a high TOPIK score, you provide tangible evidence of your language skills, which can enhance your application's strength. Furthermore, being proficient in Korean facilitates your integration into Korean society, making it easier to navigate daily life, build relationships, and pursue your goals in the country.

Additionally, taking the TOPIK lets you evaluate your language skills objectively to provide you with valuable insights into your strengths and identify any areas for improvement. This can guide your future Korean language learning efforts.
2.2.1. How to Prepare for TOPIK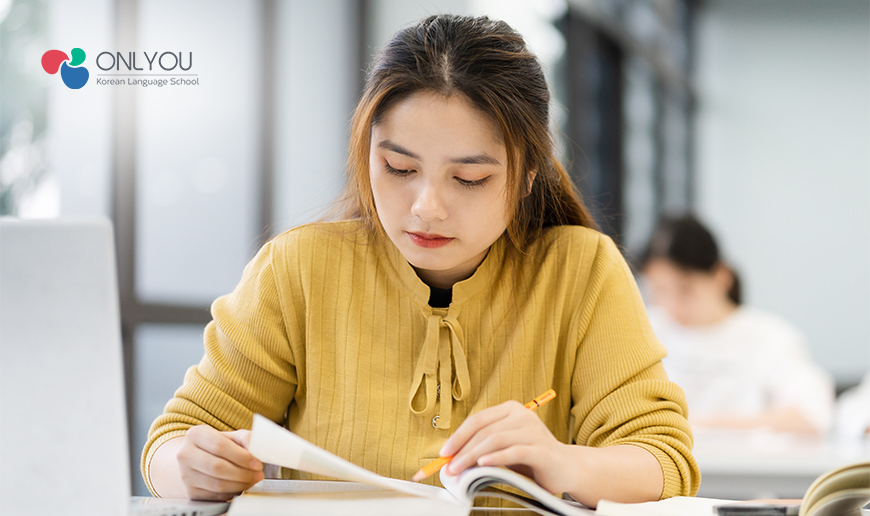 Preparing for TOPIK is a vital step to take if you want to pursue other prospects in Korea. However, embarking on this linguistic odyssey requires not just diligence but also efficient study methods. Here are some tips to help you prepare for TOPIK more efficiently.

a. Attempt Past TOPIK Papers
Downloading past TOPIK papers and attempting them is an effective way to refine your knowledge and focus your studying efforts efficiently. These papers give you an authentic view of the exam's format, difficulty level, and scope, which helps you become acquainted with the exam's structure and the common questions that may be tested. Research has also shown that frequent tests, even in the form of attempting past year papers, help students remember what has been taught, enhance their learning and thinking skills, as well as improve long-term information retention.

b. Identify Weaknesses and Address Them

Language learning is a lengthy process that involves picking up various skills such as listening, speaking, reading, and writing. There are many things you'll need to learn, but you may not be the best at every aspect of a language. For instance, you may be excellent at writing in Korean, but struggle to speak fluently or pronounce words correctly. Identifying your weaknesses along the way and addressing them as you go along can help you allocate your time and resources effectively to improve in areas you know you may not fare the best in. Necessary steps should be taken to help you find a balance and improve your linguistic skills.

One way of identifying your weaknesses is to have a Korean teacher monitor your progress and pinpoint these issues they notice. This is why learning the Korean language in a Korean language school can be beneficial. Alternatively, you can track your learning and improvement through regular self-assessments, practice tests, or mock exams.

c. Expose Yourself to Korean Content

Immersing yourself in Korean culture is an indispensable step towards achieving fluency. For example, exposing yourself to Korean content such as variety shows, Korean texts, music, and other content. These are engaging and effective approaches to improving your language skills.

Shows, dramas, and music help you become accustomed to natural speech patterns, tonality of certain words and sentences, idiomatic expressions, and cultural references. You can even pick up new vocabulary along the way.

Additionally, it helps to refine your pronunciation by providing ample opportunities to mimic native speakers and practise your speaking skills. This enhanced listening and pronunciation aptitude directly translates into better performance in the listening and speaking components of the TOPIK test.
Learn More: How to Improve Your Korean Language Speaking Skills

d. Converse with Native Koreans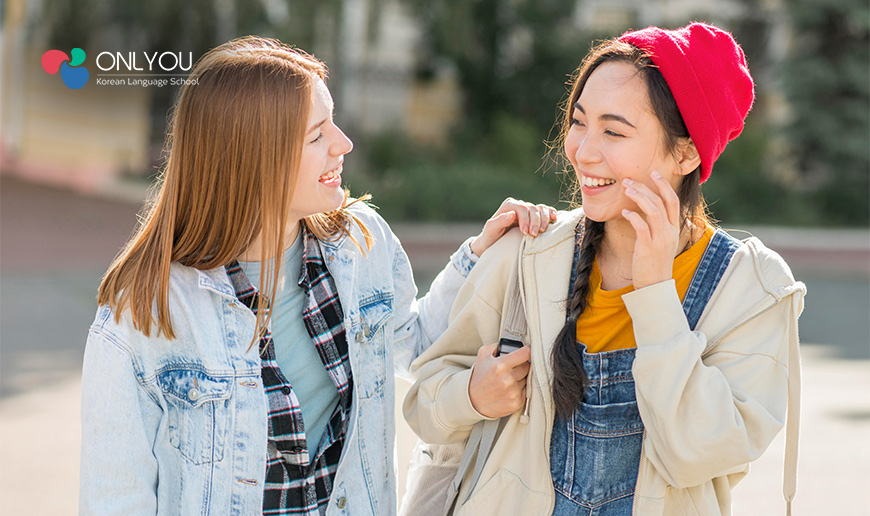 Conversations with native Koreans allows you to witness and experience firsthand the Korean language patterns, intonations, and nuances that textbooks cannot fully capture and convey. The exposure also helps sharpen your listening skills, facilitate faster comprehension, and train you to respond effectively in real-time.
Learn More: Korean Slangs: Popular Korean Phrases Used by Native Koreans
LEARNING WITH ONLYOU KOREAN LANGUAGE SCHOOL
Interested in learning the Korean language but not sure where to start? Look no further than ONLYOU Korean Language School!

3.1. About ONLYOU Korean Language School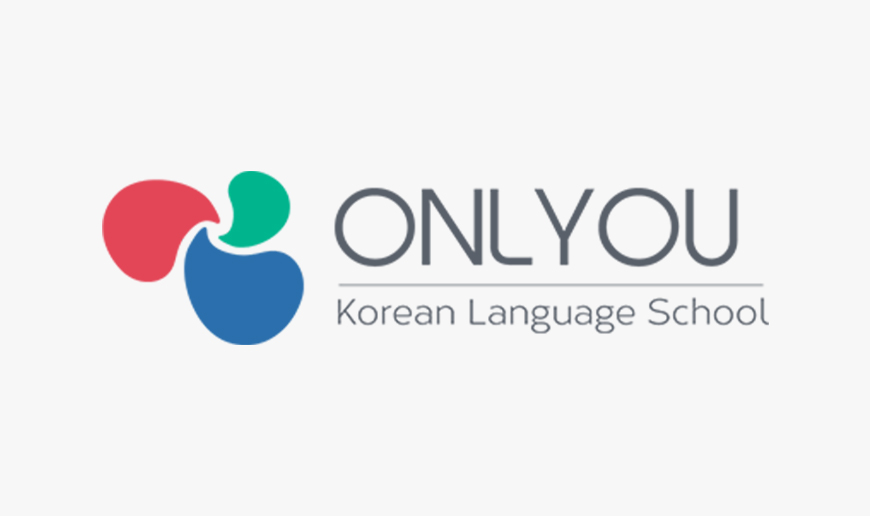 Language learning may seem boring, but it shouldn't be the case. At ONLYOU Korean, we believe that learning Korean as a foreign language should be an engaging, fun, and enjoyable experience for everyone. The process should allow you to not only pick up linguistic skills, but also learn more about the country's culture while having fun.

Our name "ONLYOU" is made up of three words—온 (on), 리 (ri), and 유 (yu).

ONLYOU (온/溫): We aim to teach classes that give you warmth and make you feel at home.
ONLYOU (리/利): We constantly design new activities that will be most beneficial for your learning and growth.
ONLYOU (유/流): We keep track of the latest trends and carry out research on Korean language teaching to provide you with the best language education.
3.2. Our Teaching Methodology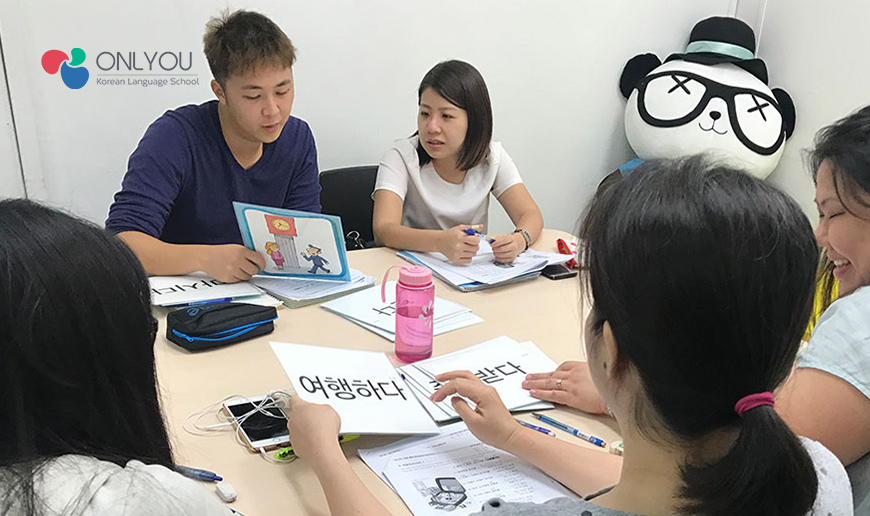 Instead of forcing rote memorisation and focusing on teaching theories, our Korean teachers seek to incorporate non-traditional teaching methods in the classroom to impart valuable linguistic skills and give students the opportunity to learn the Korean language in a fun and holistic manner. Students go through activities, games, and even watch shows or listen to music in class to stimulate their interest and gain a more accurate understanding of not just vocabulary and situations, but also of Korean culture. Our lively and interactive Korean lessons eliminate boredom, motivate students, and help to promote more efficient learning that will aid in long-term retention.
3.3. Our Teachers
ONLYOU Korean Language School is a member of the Korean Society of Bilingualism and International Association for Korean Language Education. Our Korean teachers are well educated in the Korean language, some graduating with a M.A. in Korean Language and Literature, Korean Studies, and/or a B.A. in Teaching Korean as a Foreign Language. They've also obtained the Korean Language Teacher's License from the Ministry of Culture, Sports and Tourism in Korea to teach Korean language to students. With the expertise and extensive educational background of our Korean teachers, you'll be able to learn under the guidance of Korean language experts to become fluent and highly proficient in the language too.

---
Now that you have the information you need about learning Korean in Singapore, it's time to enrol yourself in a Korean language centre to begin your language learning journey.

ONLYOU Korean is a Korean language school in Singapore offering different Korean classes for beginners to advanced learners. Visit our website to find out more about our lessons, teaching methodology, and culture.