5 Types of Korean Rice Cakes and When They're Consumed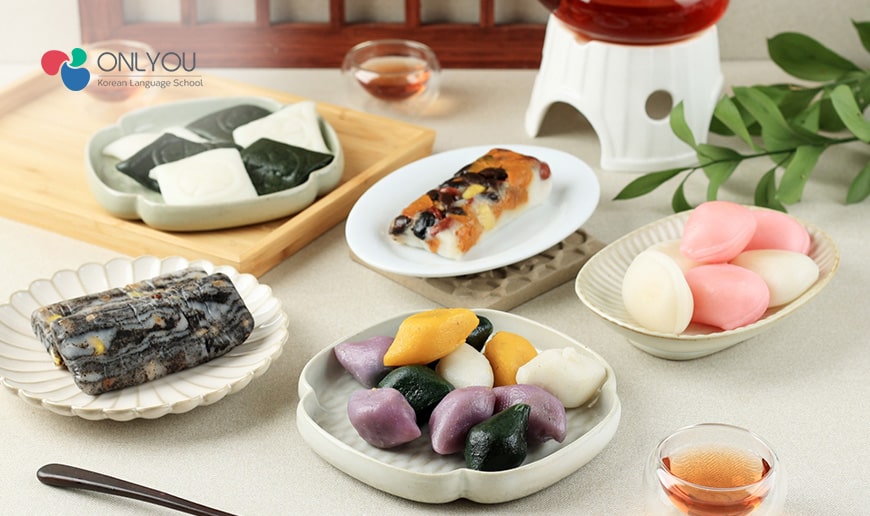 Steeped in centuries of tradition, Korean rice cakes known as 떡 (tteok) are delightful and chewy treats that hold a special place in the hearts and palates of Koreans. These creations come in various shapes, colours, and flavours, each with its own unique story and purpose. We share with you more about different types of rice cakes and their story to help you learn more about Korean culture and traditions.
Learn More: 10 Different Types of Kimchi
시루떡 Sirutteok

Siru-tteok is one of the oldest form of Korean rice cakes made by steaming rice or glutinous rice flour in a 시루 (siru), which is an earthernware steaming vessel that originated in the late bronze age of Korea used for preparing and serving sacrificial dishes during rituals. The rice cake is then layered with red beans, which, in Korean culture, is believed to chase away ghosts and prevent bad luck.

Sirutteok is generally served during feasts, ancestral rites, memorial services, funerals, as well as when people move houses or start a business as it helps to prevent bad fortune, bringing wealth, luck, and health to the household and business.

Although there is no specific time or restrictions on when you can enjoy sirutteok today, it is consumed mostly during traditional holidays and celebrations, such as the Lunar New Year 설날 (seollal), weddings, and an ancestor's death memorial day.

백설기 Baekseolgi

A delicate and subtly sweet rice cake that dates back to the Goryeo Dynasty (918-1392), Baekseolgi is made with rice flour, sugar, water, and salt, carefully combined and steamed to create a light and chewy consistency. It is a dish most commonly associated with a baby's hundredth day celebration, 삼칠일 samchilil (a period of 21 days after a baby is born), and a first birthday. This is because people believed that serving baeksolgi to 100 people to mark a newborn's hundredth day would ensure a long and healthy life for the child. Baekseolgi was also often offered during rituals for the mountain god and the dragon king.

Today, the treat is still presented as a gift and served during a baby's hundredth day celebration, as well as during festive occasions and ancestral rites in Korea, such as Lunar New Year and Chuseok.

절편 Jeolpyeon

Jeolpyeon is a delicate and colourful flat rice cake made of non-glutinous rice flour, usually shaped into a rectangular slice, but can be made into different shapes as well. Unlike sirutteok and baekseolgi, jeolpyeon involves pounding the steamed rice flour to achieve a smooth and elastic texture. The dough is then divided and topped with ingredients or coloured with natural food colouring.

The history of jeolpyeon can be traced back to the Joseon Dynasty in Korea, which lasted from 1392 to 1910. During this period, jeolpyeon was primarily created as an offering for ancestral rites and religious ceremonies.

Today, jeolpyeon is enjoyed as an everyday treat, as well as served at occasions such as tea ceremonies and weddings. Jeolpyeon can be eaten on its own or enjoyed by dipping into honey, sugar, soy sauce, and even sesame oil.

꿀떡 Kkultteok

The name Kkultteok is a combination of two words: Kkul 꿀, which means honey, and tteok 떡, which means rice cake. It is a round rice cake made from glutinous rice flour, filled with a sweet syrup made from brown sugar. And has been a beloved treat served and enjoyed by Koreans for generations, during festive occasions such as Lunar New Year and Chuseok.

In modern Korea, kkultteok is still enjoyed as a popular snack. While it is commonly associated with traditional holidays and celebrations, it can also be found in street food markets, dessert shops, and even in some modern restaurants.

Kkultteok has also evolved over time, with variations that include different fillings, such as red bean paste or nuts. It continues to be cherished by Koreans as a delicious and nostalgic treat that represents their cultural heritage.

송편 Songpyeon

Songpyeon is a rice cake shaped like a half-moon filled with various sweet fillings. In its name, song 송 translates to pine tree, while pyeon 편 translates to cake. As such, in order to make songpyeon, the rice cake has to be steamed on pine leaves.

Songpyeon is a rice cake that dates back to ancient Korea during the Three Kingdoms period. It was served as a ritual food to honour and thank ancestors and the gods during ancestral rites and harvest festivals.

Traditionally, songpyeon was prepared and served during Chuseok, which marks the end of the harvest season and is a time for families to come together, pay respects to their ancestors and give thanks for the year's abundance. Today, it continues to be a cherished treat during Chuseok, with families coming together to prepare the rice cakes and share the joy of the festive season.
Want to learn more about Korean traditions or immerse yourself in all-things Korean? Sign up for our Korean class in Singapore to master the language and be exposed to more of the Korean culture.
ONLYOU is a Korean language school in Singapore with Korean classes designed for all learner levels. Sign up here today.