Konglish: What is it and How it Helps You to Start Speaking Korean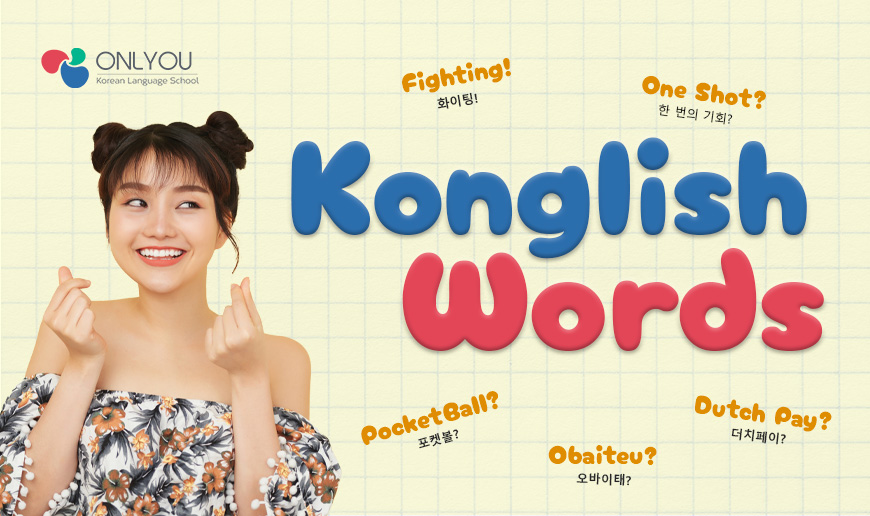 Do you aspire to be fluent in the Korean language but feel that it's too difficult to grasp? Why not take the shortcut by learning how to say some Konglish words? Konglish is a fascinating linguistic phenomenon that combines Korean and English in a way that's surprisingly helpful. Once you've mastered the art of incorporating Konglish words into your Korean conversation, interacting with Koreans will no longer be a challenge. Read on to find out more about Konglish and how to use them.

What is Konglish?
Konglish (콩글리쉬) is a lingo widely used in South Korea, characterised by the incorporation of English loanwords, phrases, and grammar into the Korean language. In simpler terms, it's English words spoken with a Korean pronunciation. It has become a distinct part of South Korean popular culture, and is commonly used even in advertising, entertainment, technology, and everyday conversation.
The development of Konglish began in the mid-20th century, when South Korea experienced rapid modernisation and globalisation following the Korean War and the division of the Korean peninsula. It was a period of significant economic growth and international influence, which drove the country towards establishing itself as a global player. English then emerged as a symbol of modernity, progress, and international communication, which gave rise to the use of Konglish.
While Konglish is widely used and understood within South Korea, it is important to note that it differs from standard English. Konglish often deviates from proper English grammar, syntax, and pronunciation. It may involve direct translations of Korean phrases into English, resulting in sentences that may sound peculiar to native English speakers.
There are two categories of Konglish you should know about: Korean loanwords and Konglish words. Korean loanwords (외래어 oe-rae-eo) are usually pronounced the same as the English words, and contain the same meaning, while the Konglish words either do not exist within the English dictionary, or do not have the same meaning as the English words. These words are often shortened or combined to create new words.
Here are some Korean loanwords:
컵 (keop) — Cup
초콜릿 (cho-kol-lit) — Chocolate
주스 (ju-seu) — Juice
메이크업 (me-i-keu-eop) — Makeup
드라마 (deu-ra-ma) — Drama
메뉴 (me-nyu) — Menu
Here are some Konglish words:
개그맨 (gae-geu-maen) — Gag Man (Comedian)
스킨십 (seu-kin-sip) — Skinship (Physical Contact)
원피스 (won-pi-seu) — One-Piece (Dress)
셀카 (sel-ka) — Self Camera (Selfie)
싸인 (ssa-in) — Sign (Signature)
셀프 (sel-peu) — Self (Self-Service)
How Does it Help You Learn Korean Faster?
Konglish has become a prominent feature of everyday Korean communication, and can actually be quite beneficial for Korean language learners. Even without Korean lessons, you can pick up these words yourself if you know how to speak English and understand the Korean writing system.
Learn More: Should You be Learning Korean without Korean Lessons?
Many loanwords are often adopted with minimal changes in pronunciation. As long as you learn the Korean alphabet, you'll be able to say these words easily. This familiarity can also provide a sense of comfort, make the learning process easier, and even help learners piece together a proper sentence through a combination of Korean words, loanwords, and Konglish words they know. And due to the widespread use of Konglish in Korea, one would be easily understood even when using Konglish, bridging the language barrier and facilitating smoother interactions.
But even as Konglish can be helpful for learners, it is essential to develop a strong foundation in formal Korean language skills, such as learning proper grammar, sentence structure, and vocabulary, in order to achieve fluency and gain deeper cultural understanding.
ONLYOU is a Korean language school in Singapore offering a range of Korean lessons catered to all learning levels. Learn the Korean alphabet, gain insights into the Korean culture, and become fluent in the language with us today! Sign up here.