10 Different Types of Kimchi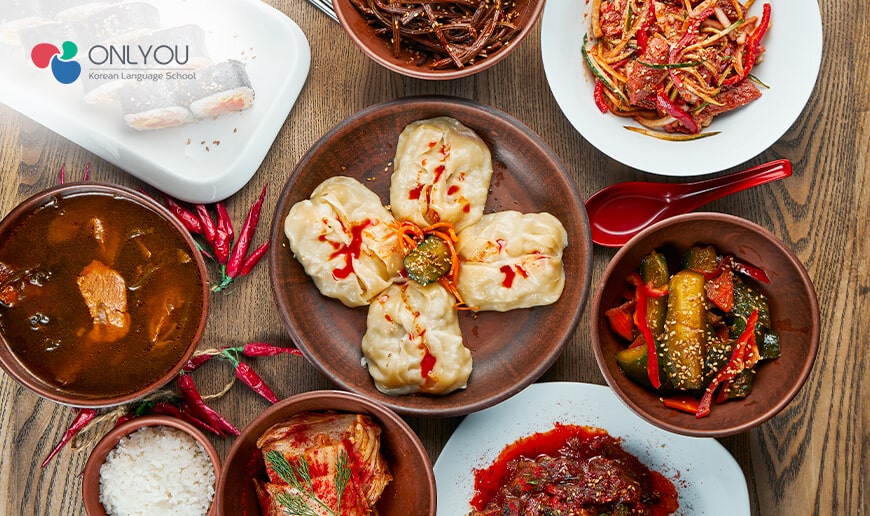 Kimchi is an iconic vegetable dish with over 4,000 years of history, served with almost every meal in Korea. Whether or not you're a fan of Korean culture or food, the chances of you having tried kimchi is pretty high. Its complex flavour and scientifically-proven health benefits make it popular even in global markets.
Learn More: A Taste Of Kimchi: Why Are Koreans Obsessed With It?
This traditional Korean dish can take many forms and offer different flavour profiles. It can be made with various types of vegetables, such as cabbage, radish, or cucumber, and can be made spicy or non-spicy simply by tweaking the ingredients used. In this article, we share with you some of the other kimchi variations (apart from cabbage kimchi) out of the over 200 existing types.
1. Baek Kimchi (백김치) — White Kimchi
Source: https://www.maangchi.com/recipe/baekkimchi
White kimchi is made without chilli powder, which explains its name. It is perfect for the elderly, young children, or people who generally do not enjoy eating spicy foods. Unlike other kimchi, baek kimchi does not necessarily require fish sauce or rice flour to make. Instead, it may contain other ingredients such as Asian pears, nutty aromatics, chestnut, or red dates to give it a mild, non-spicy, fruity flavour.
2. Kkakdugi (깍두기) — Radish Kimchi
Kkakdugi is a type of kimchi made with chunks of Korean radish massaged into a salt and chilli powder mix. It does not require pre-soaking in salt like typical cabbage kimchi does because the radish will "sweat" water to create a brine for fermentation. Radish kimchi typically has a subtle sweetness and a crunchy and juicy bite. It goes well with pretty much any dish, but complements soupy foods such as Korean chicken soup, noodle soup, or ox bone soup best.
3. Chonggak Kimchi (총각김치) — Ponytail Kimchi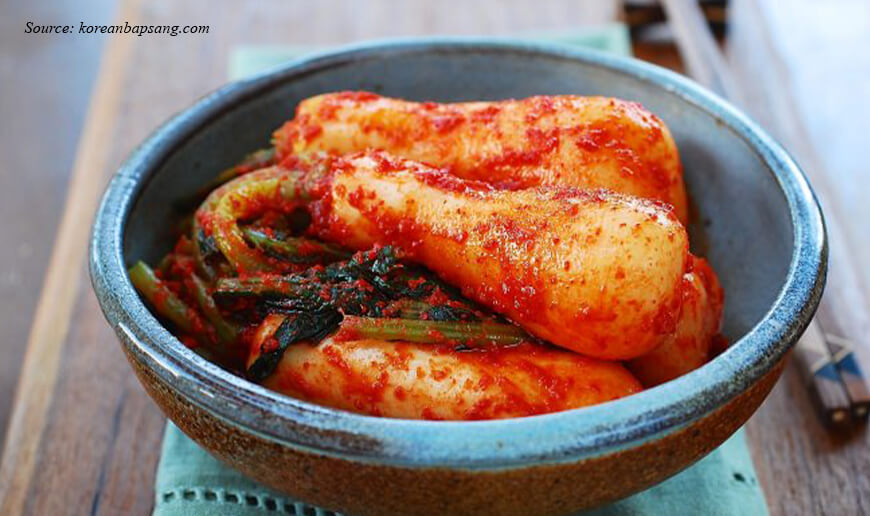 Source: https://www.koreanbapsang.com/chonggak-kimchi-ponytail-radish-kimchi/
Chonggak kimchi is made with a peculiar-looking vegetable called chonggak mu (총각무). These are small, curvy radishes that look like a topknot. It is typically coated in a paste of rice flour, fish sauce, chilli powder, 새우젓 saeujeot (Korean salted shrimp), garlic, and ginger, and left to ferment for at least a week before consumption.
4. Oi Sobagi (오이소박이) — Cucumber Kimchi
Oi Sobagi is cucumber kimchi, typically eaten fresh during the hot months of summer as it does not fare well under long fermentation periods. Korean cucumbers are stuffed with a mixture of fish sauce, Korean salted shrimp, chilli powder, and chives. Expect to taste a balance of sweet, salty, spicy, and tangy flavours when you take a bite into this cucumber kimchi. It goes well with just steamed rice, but will be amazing with Korean barbecue.
5. Pa Kimchi (파김치) — Green Onion Kimchi
Source: https://seonkyounglongest.com/green-onion-kimchi/
Also known as green onion kimchi, Pa kimchi is typically produced and eaten during spring when the Korean green onion is in season. Korean green onions, or jjokpa 쪽파, tend to be thinner than most green onions. It is seasoned with fish sauce, chilli powder, sugar, garlic, and ginger. Sometimes, dried squid may be added to add an umami flavour and a chewy texture. This kimchi is usually eaten with greasy dishes such as grilled pork belly.
6. Nabak Kimchi (나박김치) — Water Kimchi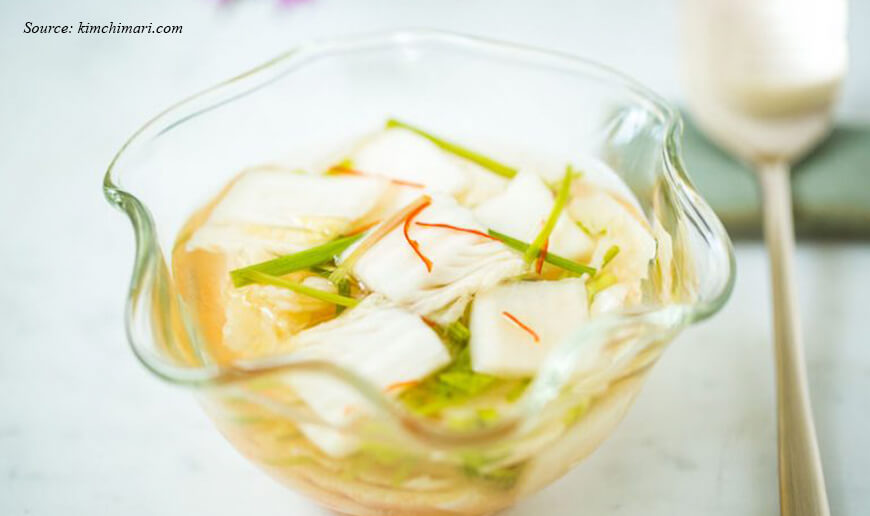 Source: https://kimchimari.com/nabak-kimchi-spring-water-vg-gf/
Nabak kimchi is a type of water kimchi that gets its name from nabak sseolgi 나박설기—a vegetable slicing technique that cuts them into small, thin squares. Radishes are sliced this way and added to a watery broth to make nabak kimchi. Unlike other common types of kimchi, which season the vegetables with a thick and savoury paste, nabak kimchi does not use fish sauce or Korean salted shrimp, and it uses significantly less chilli powder. It has a more sweet and fruity taste, and is often served alongside tteokguk 떡국—rice cake soup.
7. Gat Kimchi (갓김치) — Mustard Leaf Kimchi
Made from a wild mustard leaf known as Jeolla Do mustard, gat kimchi has a texture similar to kale, featuring a crunchy texture and slightly bitter flavour. The mustard greens must first be soaked in saltwater brine before a mixture of fish sauce, chilli powder, Korean salted shrimp, carrots, chives, and scallions are applied to each leaf. The kimchi is then left to ferment. Gat kimchi goes well with meats and stews.
8. Geotjeori (겉절이) — Fresh Kimchi
Geotjeori is cabbage kimchi typically made during the summer that does not require any fermentation and is usually eaten "fresh" immediately. The lack of fermentation, however, requires sugar to be added as the kimchi won't have time to develop a naturally sweet flavour. Usually, sugar or corn syrup are added to it along with chilli powder, Korean salted shrimp, and fish sauce. Although it can be stored for a few days, it is ideal to consume geotjeori immediately, with noodle soups, Korean barbecues, oysters, or boiled pork.
9. Yeolmu Kimchi (열무김치) — Young Summer Radish Kimchi
Source: https://www.koreanbapsang.com/yeolmu-kimchi-young-summer-radish-kimchi/
Yeolmu kimchi is another type of cooling kimchi eaten during summer. It is made with the long, tender leaves of young summer radishes and young napa cabbage, and seasoned with chilli, onion, garlic and ginger. While yeolmu kimchi can be eaten immediately, fermenting it for a couple of days will improve the flavour.
10. Kkaennip Kimchi (깻잎김치) — Perilla Kimchi
Source: https://www.koreanbapsang.com/kkaennip-kimchi-perilla-kimchi/
Perilla kimchi is made with perilla leaves. To make it, a paste of chilli powder, fish sauce, and aromatics are combined and applied onto each leaf layer and allowed to ferment for about a week. Perilla kimchi goes well with plain rice, and is also eaten with grilled meats.
Now that you've learned more about the different types of kimchi, you can truly enjoy Korean cuisine by making them and pairing them with various Korean dishes. Grilling kimchi is also a great way to consume it, as it reduces the sourness and deepens its flavour.
Interested in learning more about Korean culture? Kickstart your journey to learning more about all things Korean with ONLYOU, a Korean language centre where you can learn Korean and gain deeper insights into the country and culture. Find out more about the courses here.