How Koreans Tell Personalities with MBTI
Getting to know another person better usually involves spending time together and learning more about each other through conversations. In Korea, however, things are a little different. The younger Korean generation today are making friends and finding out more about one another through a personality indicator known as the MBTI, short for Myers-Briggs Type Indicator.
The MBTI instrument is based on a theory developed by Isabel Myers and Katharine Briggs in 1943. It puts people through a questionnaire to measure their preferences and find out more about how they perceive their surroundings, interact with people, and deal with situations. The answers then categorises people into 16 different personality types, which can be used to understand and appreciate differences or similarities between people and help them discover their own personalities, strengths, and weaknesses.
MBTI's Popularity In South Korea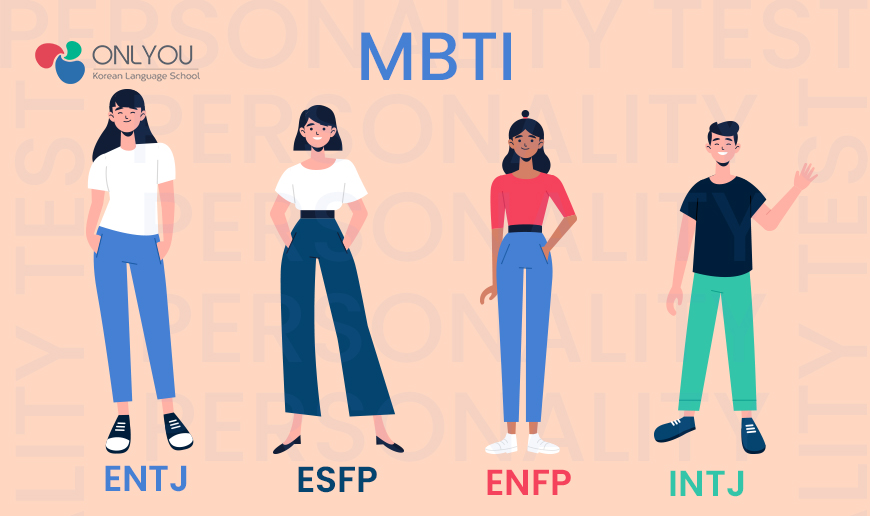 According to a survey conducted in December 2021, over half of the Korean population has taken the MBTI test, with nine out of 10 people aged between 19 and 28 responding that they took the test. This shows how much of a sensation this personality type test has become among the younger Korean generation. 
The MBTI is used in many situations in Korea. For example, during a blind date or a first date, when Koreans meet for the first time, or even during job interviews to help hiring managers see if candidates are suitable for their company's culture. It is even incorporated into Korean variety shows to appeal to the younger audience. 
Using the MBTI to approach dating appeals to the "MZ Generation"—Millennials and Gen Z—as they see it as an efficient way to find out if a person suits them well. By simply telling someone your four-letter combination, they can easily understand the kind of person you are without you having to explain more. 
Learn More: 5 Things You Should Know About the Dating Culture in Korea
South Korean companies have been cashing in on this trend as well, launching game simulators such as an "MBTI Blind Date" to help players gauge their compatibility with each personality type by chatting with different representative characters.
Telling Personalities with MBTI
The MBTI system describes a person's personality and categorises them into a type by testing five opposing traits.
1. Introverted vs. Extraverted
This first aspect identifies how people interact with their surroundings and how they gain energy. Introverted individuals (I) are easily exhausted by social interactions and tend to prefer solitary activities. On the other hand, extraverted individuals (E) prefer engaging in group activities, are energised by social interactions, and may even enjoy being the centre of attention.
2. Intuitive vs. Observant
This second aspect represents how people see the world and process information. Intuitive Individuals (N) are very imaginative, open-minded, and curious while observant people (S) are highly practical, pragmatic, and down-to-earth.
3. Thinking vs. Feeling
This aspect shows how people make decisions and cope with their emotions. Thinking individuals (T) are rational and logical whereas feeling individuals (F) are more sensitive and emotional. They are more empathetic and they prioritise social harmony.
4. Judging vs. Prospecting
This aspect reflects one's approach to work, planning, and decision making. Judging individuals (J) are decisive, thorough, and highly organised. They value structure and detailed plans. Prospecting individuals (P), however, are great at improvising and tend to be more flexible. They prefer to keep their options open.
5. Assertive vs. Turbulent
Lastly, this aspect demonstrates how confident people are in their own abilities and decisions. Assertive individuals (-A) are very self-assured, even-tempered, and resistant to stress, hence they don't push themselves too hard. Turbulent individuals (-T) are very success-driven and eager to improve, which makes them very self-conscious and sensitive to stress.
After taking the test, individuals will be given a four-letter code that summarises their personality traits. They include ISFP, ISFJ, INFJ, INTJ, ISTP, ISTJ, INFP, INTP, ESTP, ESTJ, ENFP, ENTP, ESFP, ESFJ, ENFJ, and ENTJ.
Now that you have a better understanding of MBTI and how it describes a person's personality, you can use it to get to know your Korean friends better! 
Want to learn more about Korean culture and stay abreast with their trends? Kickstart your journey with a Korean language class at ONLYOU, a Korean Language School in Singapore offering a variety of Korean classes for learners of all levels. Find out more about our courses here.