What can we Learn from Penthouse: War in Life?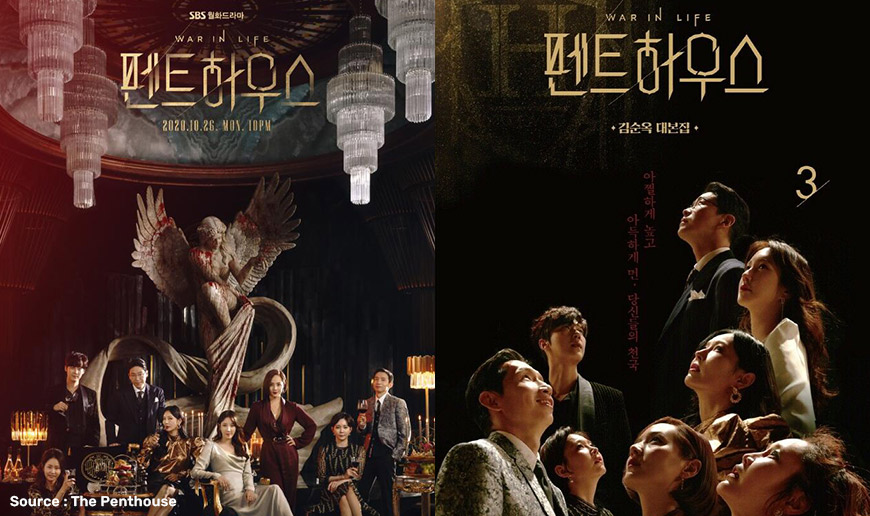 Korea is well-known for its multibillion-dollar entertainment industry, which produces exhilarating Korean dramas for the world to consume. One series became so popular in 2020 that they produced and released a total of three seasons in two years. This series is none other than Penthouse: War in Life. This three-part drama series depicts the lives of wealthy families who live in one of Korea's most luxurious residential buildings, the Hera Palace. These families would go to great lengths to succeed, grow in wealth, and help their children become the best classical opera singers or musicians. This exciting plot full of twists and turns elicited a wide range of emotions from the audience.
Aside from its exciting plot, Penthouse: War in Life addresses a variety of socioeconomic issues that have plagued Korean society for decades. Some of these issues are also prevalent in Singaporean society. What exactly are they, and what can we learn from Penthouse: War in Life?
Social Stratification, Discrimination, Dishonesty and Corruption

The entire drama series revolved around the casts' elitist behaviour, with wealthy families discriminating against those with less power. This is due to social stratification, which is the division of people in a society based on their socioeconomic status, which is determined by wealth, income, education, and other factors. As a result, opportunities and rewards were distributed unequally, resulting in significant power struggles and discrimination.

The upper class families in Penthouse: War in Life would use their wealth to achieve their goals. Some of them used unethical means such as bribery to get their children into an elite school, fake competition results, and even used money to get away with the law. Those from lower social classes would then have no equal opportunities to move up the social ladder and would be subjected to unfair treatment in society due to their lack of monetary power. At the end of it all, the rich, arrogant and dishonest ones suffered the worst consequences, falling from grace and landing themselves in deep trouble while the honest and most hardworking people reaped the rewards.

Despite the fact that bribery and corruption are not common in Singapore due to our strict laws, social stratification and economic inequality are. However, it is crucial that we learn from this drama series and recognise that good things can come to those who work hard.

School Bullying

Bullying is an aggressive behaviour characterised by an imbalance of power or strength, and it was one of the major issues addressed in Penthouse: War in Life. In the series, bullying was mostly targeted at students from lower socioeconomic backgrounds or those with less wealthy and influential parents. To avoid trouble, many were forced to obey the rich and powerful.

Bullying in schools is a major issue in South Korea and even Singapore. Many schools around the world struggle to keep students in check. To prevent bullying, education systems around the world must remain vigilant and set positive expectations for students, while parents must educate and instil the right values in their children from an early age, setting a good example for them. This is because many young and impressionable students may take after their parents and behave in a way that they've witnessed, not knowing that it's wrong.

Suicide

Another prominent issue in Korea is the country's high suicide rate, which is highlighted in a number of K-Dramas. For the past two decades, Korea has had one of the highest suicide rates among developed nations due to high levels of stress and a lack of mental health support. But despite being aware of the issue, Korea's mental health system and prevention measures are inadequate to provide the necessary support to those with suicidal thoughts.

In Singapore, we have a strong healthcare system in place to assist those suffering from mental illnesses. However, society's stigma against mental health patients has not yet gone away and must be addressed. Suicide is preventable and everyone can play their part in making Singapore a more inclusive society. How will you contribute to a better Singapore?
Many of the social issues addressed in Penthouse: War in Life are issues that we face in Singapore. Economic inequality, an elitist society, school bullying, suicide, and dishonesty are all issues that we face as a country. Through such methods of exposure, we can change the mindset of our society and make the world a better place for future generations.
Many K-Dramas like Penthouse: War in Life tackle problematic societal issues in Korea to help us get a glimpse into what Korea is like as a society. However, it is only a small part of the country that we see through a carefully curated piece of work.
If you wish to learn more about Korea's culture, sign up for a Korean class with us to learn Korean so that you can expose yourself to more of such Korean content without inaccurate subtitles or translations. Contact us today to speak to a Korean tutor in Singapore.