A Taste Of Kimchi: Why Are Koreans Obsessed With It?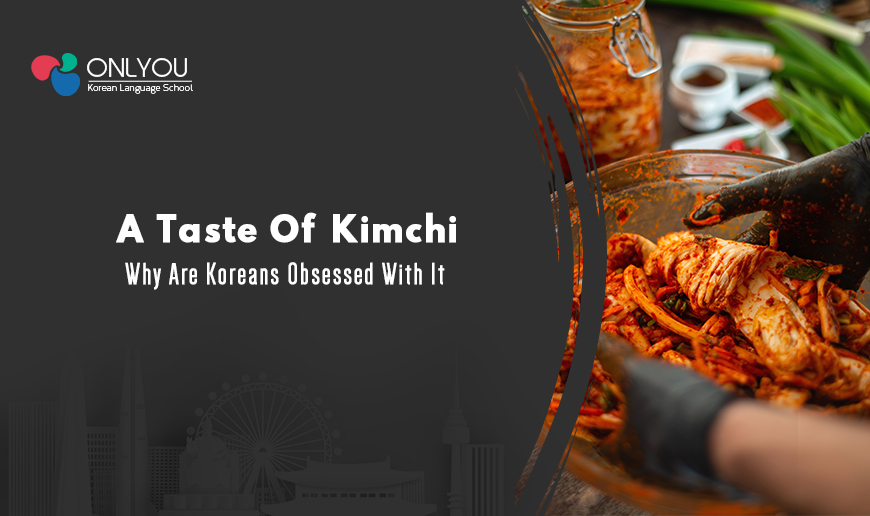 Korean cuisine has some of the most flavourful and unique dishes globally. But of all the mouth-watering Korean dishes you often see on K-dramas, kimchi is usually the one that stands out. This dish never fails to be present at every meal. Ask any Korean what completes their meals, and you will most likely hear "kimchi" as their answer.
But what exactly makes kimchi so addicting for Koreans? If you are curious to find out why kimchi is such a staple food in Korea, this article is perfect for you. Let us share some of the essential facts you should know about this all-time favourite healthy Korean dish.
What is kimchi? 
Kimchi is a traditional dish in Korea that consists of salted fermented vegetables. It usually contains cabbage and seasonings, such as salt, sugar, garlic, onion, ginger, and Korean chilli powder. Sometimes, it may also have other vegetables like radish, cucumber, carrot, and eggplant, depending on the type of kimchi you make.
There are essentially several types of kimchi, each of which has its name and various ingredients. The most famous type of kimchi is the Baechu-Kimchi (배추김치), also known as Napa Cabbage Kimchi. This is the kind of kimchi you often see on K-dramas. It is prepared by fermenting salted napa cabbages with salted seafood, aromatic vegetables, Korean radish, Korean hot pepper flakes (Gochugaru, 고춧가루), and a variety of seasonings.
Aside from Baechu-Kimchi (배추김치), the other popular kinds of kimchi you will see almost everywhere in Korea include the Chonggak Kimchi (Ponytail Radish Kimchi, 총각김치), the Oi-Sobagi (Cucumber Kimchi, 오이소박이), the Kkakdugi (Cubed Radish Kimchi, 깍두기), the Kkaennip kimchi (Sesame Leave Kimchi, 깻잎김치), and the Baek Kimchi (Non-Spicy White Kimchi, 백김치). These different types of kimchi may have different additional tastes, but they all have the same base flavour – sour, salty, and umami.
Why do Koreans eat kimchi all the time?
It is part of their culture and tradition.
Tradition is one of the main reasons why Korean serve kimchi at almost every meal. History shows that Koreans were already eating kimchi as early as 37 BC. During those times, it was common for the locals to make fermented dishes because of the abundance of ingredients and lack of refrigeration. Aside from this, fermented dishes were also straightforward to create. Hence, kimchi was served at every meal and even eaten as a convenient snack.


Its taste perfectly complements many Korean dishes.
Kimchi, particularly Baechu-Kimchi (배추김치), usually has a spicy and sour taste similar to that of pickled vegetables. It also often has hints of garlic and ginger, with the vegetables being crispy on the sides. With its distinct and savoury flavour, you can combine kimchi with other dishes, and their tastes will easily balance each other out. No matter what Korean dish it is paired with – whether a bowl of hot instant ramyeon or a mouthful of tasty samgyeopsal (grilled pork belly, 삼겹살) – kimchi will perfectly complement it.
It has many known health benefits.
Kimchi is considered one of the healthiest dishes in the world. Since it is a vegetable-based dish, you will surely gain much nutrition from eating it. Some of the essential nutrients you can get from eating kimchi are vitamins A and B and lactobacilli. Combining these vitamins and minerals is believed to help combat different diseases, including obesity and cancer. Moreover, kimchi has also been proven to have several antioxidants and anti-ageing properties, which is probably why most Koreans have great skin. So, if you are trying to achieve radiant and youthful skin, kimchi should be your go-to dish.
It is very affordable and convenient.
Making kimchi from scratch is relatively easy, especially since most of its ingredients are readily available in small neighbourhood stores and large grocery stores. By mostly mixing the ingredients and leaving them alone to ferment for an extended period, you can already make flavourful kimchi that you and your family can feast on at every meal. The practice of making kimchi is even considered a neighbourhood activity in Korea called "kimjang (김장)". Kimjang is one of the most important family traditions in Korea, it is listed by UNESCO as an Intangible Cultural Heritage of Humanity in 2013. This tradition came about when access to fresh ingredients is limited in the past during the winter season, so Koreans created fermentation techniques to preserve food to last till spring. Families and communities would gather and make kimchi in large quantities, the gathering usually takes up 2-3 days in late autumn or early winter.
Conclusion
There are many reasons why Koreans are so obsessed with kimchi. Aside from being a part of their tradition and a staple food for the locals, kimchi is also great for the health and wallet. If you want to learn more about Korean cuisine, practices, and language, sign up for our Korean classes here at ONLYOU Korean Language School now.
We have patient and highly qualified instructors who will help you understand what makes Korean culture one of the best in the entire world. With our fun and affordable Korean lessons, you will surely know enough about Korea to be able to relate easily to your favourite K-dramas!