10 Must-Try Korean Snacks You Can Find In Singapore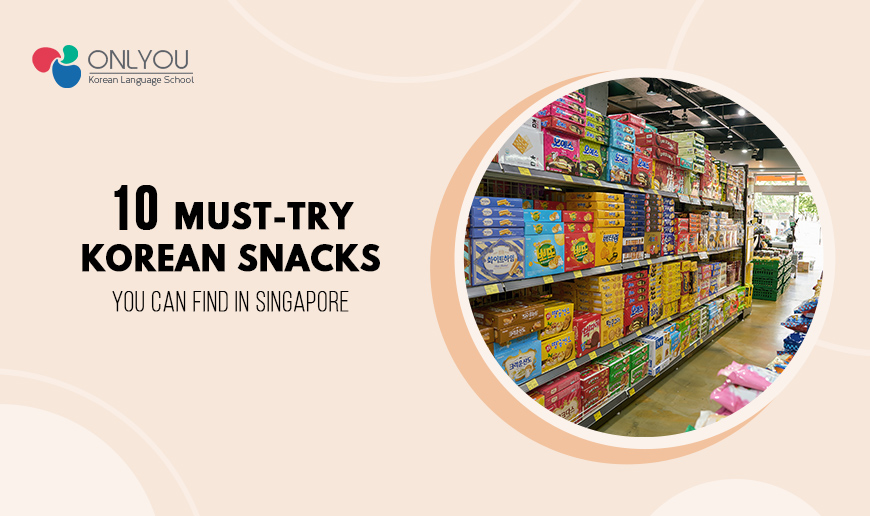 Korean foods are widely popular around the globe, thanks to their great promotion in K-dramas. Aside from the famous kimchi and instant ramyeon, did you know that Korea also has some of the best snacks in the world? Sweet, salty, hot, and spicy – these are all the distinct flavours you can taste when you take a bite of the tastiest Korean snacks out there.
Fortunately, some of these flavourful snacks are already available right here in Singapore, waiting for you to munch on. So, if you have been craving some delicious and unique food products for a while now, let us share the best Korean snacks you can find here in our local supermarkets.


Seaweed Almonds (김맛 아몬드)



Image credit: www.roundtheclockmall.com




Although the combination might initially sound weird, seaweed and almonds can go well with each other, and Tom's Farm's Seaweed Almonds proves this! Mixing the distinct flavours of seaweed and almond will give you a unique Korean snack experience you will surely remember. A word of caution, though, this snack has a salty aftertaste, so if you are not a big fan of that, you might as well skip to the next.



Chew and Real Sweet Potato (고구마츄)



Image credit: www.chungjungone.com




If you are a health enthusiast looking for a more nutritious snack, Chung Jung One's Chew and Real Sweet Potato is the Korean snack for you. This titbit has a similar texture to the dried fruit snacks you can find locally, except it does not have artificial sweetness. Instead of having any added sugar, this Korean snack has a light natural sweetness from the sweet potatoes themselves. Hence, it is the perfect snack for those trying to watch their calories.



Samyang Buldak Dried Squid (불닭오징어)



Image credit: www.samyangfoods.com




If you are in the mood for some spicy snacks that will make your nose run, the Samyang Buldak Dried Squid is one of your best choices. This product is a fiery hot, chicken-flavoured snack that perfectly complements beer or soju. It is made of dried squids seasoned and cut into thin strips before packaging. If you love seafood and spiciness, you should give this Korean snack a try.



Honey Butter Cashew Nut (허니버터 캐슈넛)



Image credit: www.lotteon.com




Another great product in Tom's Farm's list of tasty Korean snacks is Honey Butter Cashew Nut. This snack offers slightly caramelised cashew nuts lightly dusted with honey butter powder. Since cashew nuts do not have a strong flavour, they go exceptionally well with honey butter. This product is undoubtedly a sweet treat that you can feast on in one sitting.



Crown Couque D'Asse (쿠크다스)



Image credit: www.lotteon.com




If you are searching for a perfectly creamy snack to munch on while reading the morning newspaper, you must give the Crown Couque D'Asse Vienna Coffee a try. This Korean snack is a wafer biscuit filled with silky coffee cream that will provide you with a melt-in-your-mouth effect. This product is a great partner for your coffee or tea with its subtle creaminess.



Jjondeugi Traditional Korean Snack (쫀드기)



Image credit: shopee.sg




A diet snack for those trying to achieve a beach-ready body for summer, Jjondeugi Traditional Korean Snack has been creating a buzz among many fans of Korean food. This chewy snack is made of sweet potato and pumpkin and contains konjac, a starchy root that can help you stay full for longer hours. Hence, if you are trying to maintain a fit figure, this Korean snack is something you should try. The snack can be eaten on its own or grilled to bring out the full flavour.



Haitai Sweet and Hot Tteokbokki Snack (신당동 떡볶이)



Image credit: www.lotteon.com




If you are a fan of tteokbokki (Korean rice cakes), you will surely love this snack version of that popular Korean dish. Haitai Sweet and Hot Tteokbokki Snack offer honeyed sweetness and a bit of spiciness that will make you remember the first time you had a bite of tteokbokki. What is better about this product is that it is crispy, so you can perfectly pair it with soju.



Korea Crispy Mozzarella Cheese Breaded Corn Dog (모짜렐라 치즈 핫도그)



Image credit: shopee.sg




Fans of great K-dramas like Start-Up will easily recognise corn dog as one of the most mouth-watering Korean dishes. Luckily, you can now easily have a taste of this popular Korean snack with Wang's Korea Crispy Mozzarella Cheese Breaded Corn Dog. This product is full of crispiness on the outside and has a chewy sausage and buttery, stretchy mozzarella cheese on the inside. It is perfect for those who love cheese that stretches with each bite.



Lotte Dream Cacao Chocolate (드림 카카오)



Image credit: shopee.sg




If you love snacking on subtly sweet chocolate, then Lotte's Dream Cacao Chocolate will be your next favourite thing! This product has a rich chocolate taste and is filled with antioxidants that can help you minimise your risk of heart-related diseases. Made from pure cocoa from the cocoa tree, this chocolate will undoubtedly boost your energy and endorphin levels to get you through the day.



Orion Market O Real Cheese Chips (마켓오 리얼 치즈칩)



Image credit: shopee.sg




Orion has been known for offering some of the most delicious and addictive Korean snacks, and one of them is the Market O Real Cheese Chips. Loaded with an irresistible cheese flavour, these baked chips have cheddar cheese sprinkled with camembert cheese toppings. If you love cheese but are conscious about your waistline, this Korean product is the perfect snack you can eat anytime.
Conclusion
South Korea is indeed a country of many great things – K-pop, K-dramas, and mouthwatering food! Thankfully, you no longer need to travel all the way just to have a taste of the best Korean snacks. Some of these tasty and flavourful snacks can be found here in Singapore. Since many Korean products are readily available in our local supermarkets, getting Korean food products has been more convenient now than ever.
Likewise, you also do not need to go to Korea to learn the Korean language, you can become proficient in Korean without much hassle by signing up for our Korean classes here at ONLYOU Korean Language School. We are a leading Korean Language School in Singapore that offers fun and reliable Korean lessons online. With the help of our qualified Korean teachers, you will indeed become a pro at speaking and writing Korean in no time!