How To Get Freebies And Discounts When You're Visiting Korea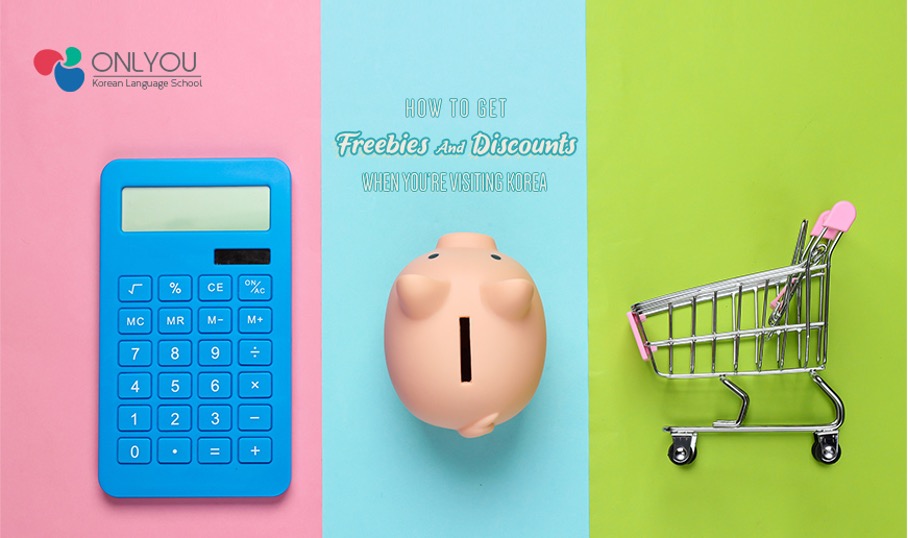 With Hallyu continuing to make waves worldwide, it is not surprising to learn that Korea is a popular tourist destination among many Singaporeans, with almost 100,000 Singaporeans visiting the Land of the Morning Calm annually.
However, there is no denying that travelling overseas can be an expensive experience. Furthermore, with Korea being a shopping haven, you could easily find yourself running out of money if you don't monitor your spending closely. But that does not mean you should deny yourself the opportunity to visit the Land of the Morning Calm.
Aside from K-drama and K-pop, Korea is also renowned for its exemplary services and freebies. If you are shrewd, you can easily obtain massive discounts or score freebies that will help you save money and maximise your shopping experience in the country. Let us share some proven and tested tips to obtain fantastic discounts and freebies as a tourist visiting Korea.
Tip #1: Visit shopping districts that are popular with the locals for 'better discounts'
Korea is home to numerous shopping districts, with the nation billed as a shopping paradise for many shopaholics. Seoul, in particular, is a tourist hotspot for many Singaporeans looking to get the latest fashion and beauty products at attractive prices. 
While Myeong Dong is often the recommended shopping district for tourists visiting Seoul, we recommend visiting other shopping destinations that are popular with the locals for better discounts. This is because the products found in Myeong Dong are often marked up at a higher price due to the district's popularity among tourists. Furthermore, there are fewer product bundles at significant discounts to be found in the area. 
Instead, you can consider visiting the Express Bus Terminal Underground Shopping Arcade, which contains a treasure trove of affordable clothes. Alternatively, we recommend heading to either Ewha Womans University Shopping District or Hongdae Shopping District as the cosmetics and apparels found in these areas are generally cheaper since they cater to the student population. Additionally, the shops located in these districts are typically more generous with the free samples they hand out to customers.
Tip #2: Get a crazy amount of side dish refills at Korean restaurants
In Korea, there is a widespread belief among many restaurant owners that "The customer is king." As such, the owners and their workers often go the extra mile to provide their customers with the best possible experience. This usually comes in the form of prompt services and freebies.
If you have visited an authentic Korean restaurant in Singapore, you will likely notice that the staff regularly replenishes the variety of side dishes that come with your meal for free. And this is also the case when you visit most restaurants in Korea. You can probably fill your belly with the side dishes alone! If you are lucky enough, you may even be gifted with an extra bottle of beverage or a complimentary dish.
Tip #3: Free WiFi and phone charging services are readily available
When you are travelling in Korea, you never have to worry about staying connected to the internet, as the nation is renowned for its prevalent connectivity network. Some tourists have even chosen to forego getting a travel SIM card since they can find free WiFi anywhere in Korea.
Moreover, you never have to worry about your smartphone running out of juice during your travel, as most restaurants and bars offer phone charging services for free when you patronise the outlet. You no longer have to worry about carrying a portable power bank to keep your device fully charged.
Tip #4: Cross check the prices before making a purchase to get crazy savings
It is common to find different outlets carrying the same brand in Korea. This is particularly true in Seoul, where you will most likely find the same product available at various stores within a single shopping district!
You can use this to your advantage and obtain crazy savings by checking which shop offers better discounts. By doing your homework and cross-checking the various prices, you might be lucky enough to score a massive discount. For example, a piece of clothing that caught your eye might be priced at KRW 30,000 in one store but could be significantly cheaper at another outlet. 
Tip #5: Try out tons of Korean food for free at the supermarkets
Not all supermarkets in Korea offer free samples, but the bigger ones, like E-Mart or Homeplus, usually do. These free samples have proven to increase sales and drive product awareness, which is why many supermarkets, especially the well-known ones, offer free samples to convince more consumers to buy them.
Such promotional tactics are especially prevalent during the weekends, as many families often visit the supermarkets during these times to buy groceries. There is a greater variety of free samples on offer to entice the crowd to purchase these products. So if you are looking to sample various Korean food for free, you can consider paying a visit to the nearest supermarket on the weekend during your trip to Korea.
With the wide variety of samples available, such as yoghurt, fruits, dumplings, and soup, even a picky eater will have plenty of options to sample when visiting the big supermarkets in Korea. Just remember to be conservative and avoid taking more than one or two samples, as it is rude to hoard these freebies.
Conclusion
Just because you are planning an overseas trip to Korea does not mean you have to spend a fortune. Even though the country is widely regarded as a shopping haven by many tourists, you can still avoid hurting your pockets with some shrewd planning and by maximising the discounts and freebies you can get in Korea, allowing you to save a significant amount of money during your vacation.
As you are planning your dream holiday to the Land of the Morning Calm, you may want to consider signing up for Korean classes to brush up on your Korean before your trip. You can learn several helpful phrases to help you better navigate the area, which can lead to an overall positive travel experience.