Instant Hit: Why Koreans Are Obsessed With Ramyeon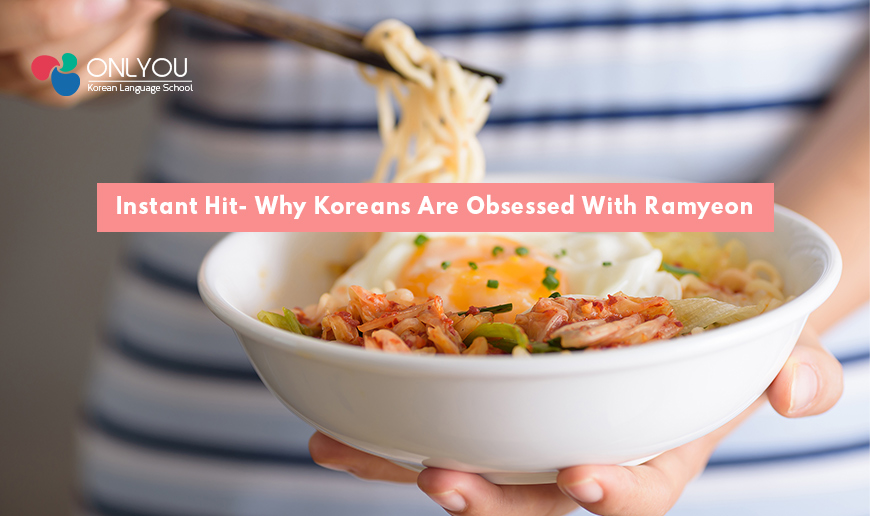 With the proliferation of Hallyu culture globally, people are not just consuming Korean entertainment but its food as well! And one of the most popular food crazes that everyone loves munching on at any time of the day is ramyeon (라면). This hot, spicy, and savoury Korean dish is truly comfort food for many people.
In fact, if you have been a devout follower of Korean entertainment, you have most likely spotted this dish in many Korean dramas already, from the classic Boys Over Flowers to the fan-favourite Reply 1988. And its popularity in Korean culture is not at all surprising. Not only is ramyeon convenient and affordable, but it is packed with flavours, making it one of the go-to meals for many working-class adults.
There are even statistics to back up the Korean's love for ramyeon. According to a study recently published by the World Instant Noodles Association, South Koreans have consumed approximately 4.13 billion servings of instant noodles in 2020, ranking eighth worldwide.
While this position might seem lower than expected, we have to factor in that the South Korean population is approximately 51.78 million. By doing some basic math, this means that South Koreans consumed around 79.7 units of instant noodles per person in 2020, which is the highest in the world.
If you are curious as to why instant noodles are a source of national pride for the Koreans, let us share some fascinating facts about ramyeon that may change how you perceive this fan-favourite dish.
History of ramyeon in Korea 
Ramyeon has a long history in Korea. It first entered the local market in the early 1960s when the country was clawing its way out of the poverty and destruction brought by the Korean War. At that time, the Koreans were increasingly finding themselves money-rich but time-poor as the country worked towards development and industrialisation. As a result, they were frequently busy and had lesser time to prepare meals for themselves.
To cope with their increasingly fast-paced lifestyles, the working-class Koreans looked for meals that could be prepared in a short amount of time. Enter ramyeon - with the first-ever Korean-style instant noodle product launching in the country in 1963 by Samyang Foods.
Due to their similar naming convention, some non-Koreans have confused Korean ramyeon with Japanese ramen. However, they are not the same. Not only do they originate from different countries, but their taste is also distinct from each other. Korean ramyeon generally has a stronger and spicier taste compared to Japanese ramen, which is milder and more subtle.
Today, ramyeon has become a classic dish not just for Koreans but for many people worldwide, becoming their go-to meal regardless of the time of day. It has even gained popularity as a cure for hangovers, with many Koreans believing that consuming ramyeon after a night of drinking or the morning after can aid in decreasing the effects of a hangover.
How to prepare ramyeon the Korean way
As ramyeon became more and more popular outside Korea, creative chefs have begun to experiment with a variety of ways to cook this dish. However, most choose to retain the original flavour in ramyeon as much as possible.
So if you want to experience the authentic taste of ramyeon, let us share how you can prepare your instant noodle the way the Koreans love to cook theirs. To do this, you should first get an aluminium pot that has the symbolic "off-gold" colour. This pot is referred to as "yang-eun nembi (양은냄비)" by Koreans, and it can heat up fairly quickly, which is a vital attribute for a time-saving meal like ramyeon.
After getting your necessary cooking equipment, the next thing that you will need is your creativity. Even though you plan to stick to the original recipe as closely as possible, there is still plenty of room to experiment. In fact, the creativity afforded by ramyeon is one of the reasons why this dish is popular worldwide.
Additionally, you can turn ramyeon into a more balanced and nutritious meal by adding a wide variety of ingredients. Feel free to experiment and be creative – we guarantee the recipe will satisfy your taste buds.
If you are looking for some suggestions, we recommend adding bean sprouts, spring onions, egg, rice cake, and cheese, as they are often the go-to ingredients for many Koreans making ramyeon. And if you have been binging your K-dramas, you would probably know that kimchi is a classic ingredient to pair with a hot bowl of ramyeon. The combination of these two Korean delicacies is just perfect, especially on a rainy day.
Conclusion
What started out as a quick and fulfilling meal for busy working-class adults has since carried cultural significance for many Koreans. In fact, when a 2014 study published by Baylor Heart and Vascular Hospital in the United States linked the consumption of instant noodles to certain risks for heart disease, it provoked feelings of nationalism among many South Koreans. This demonstrates the strong emotions the Koreans have for ramyeon.
Given the historical and cultural connotations associated with this dish, we are not surprised that ramyeon has made its way into every Korean's heart, effectively embedding itself as a part of Korea's cultural DNA.
If Korean culture and its cuisine have captured your heart and piqued your interest in all things Korea, you might want to consider signing up for Korean courses to learn a second language. By understanding the Korean language, you can better grasp the nation's vast traditions and cultures, as specific nuances can often be lost in translation. But if you understand Korean, you need not have to worry about such concerns.