4 Useful Ways To Expand Your Korean Vocabulary With Music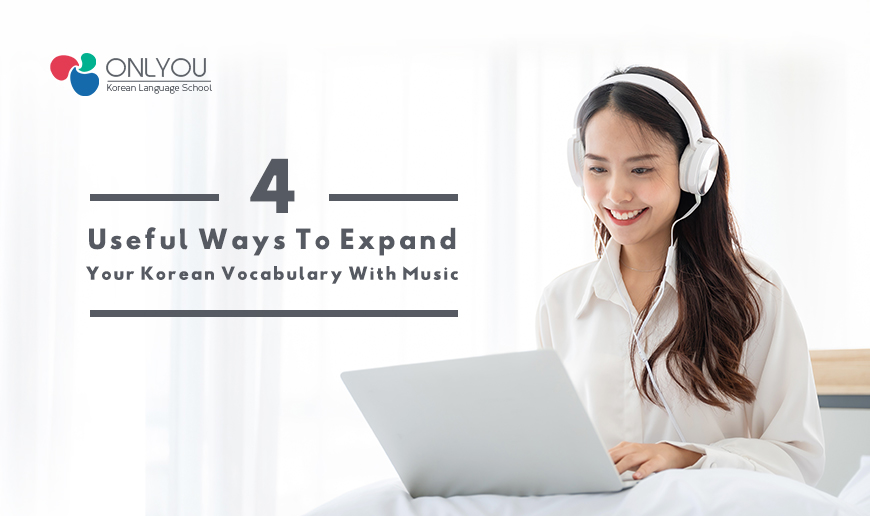 Are you interested in picking up Korean as a second language? Thanks to the influence of Korean pop culture, many people from all over the globe have gravitated towards learning Korean in hopes of gleaning insight into the country's history and its customs.
However, learning a foreign language is not a skill that you can immediately achieve overnight. It takes time and effort to master a new language, including Korean. Aside from attending Korean language lessons taught by native Korean teachers, you may also want to dedicate personal time to memorising the Korean vocabulary to help you better grasp the concept of the language.
Supplementing your language learning with creative methods, such as listening to Korean music and understanding its nuanced lyrics, can present you with a multitude of new expressions and grammar. Let us share how you can expand your Korean vocabulary with K-pop!
1. Find a song you are interested in and sieve out unfamiliar words
Korean songs serve as excellent memory aids because of their catchy tunes. Hence, the first step is to pick out a piece you are interested in and then sieve out five to ten unfamiliar words. This ensures that you are learning with a song that is appropriate for your current proficiency level.
If you have been attending private Korean lessons, chances are you are already capable of understanding new vocabulary based on contextual clues within the song. However, there are only so many new words you can learn at once, so you should only pick out common words relevant to everyday conversations.
A way to sift out useful words for your daily life is to base them off their frequency and position to subject/object markers. These parameters will aid you in identifying specific words that you can use while conversing with native Korean speakers and weed out any inappropriate terms used for artistic purposes in a song.
2. Determine the rationale behind the songwriter's word choice 
When you are listening to a song, avoid solely focusing on the individual lines alone. It would be good to see the song's big picture by linking the different lyrics together. This way, you can better decipher the song's general message and context, grasp the rationale behind the songwriter's word choices and understand how each word contributes a significant meaning to the song.
As with all languages, there are multiple meanings to each word. Korean is no exception. Hence, you want to pay attention to the various contexts in which a word is used. Additionally, consider the connotation and implied meaning of a word. For instance, in English, "pathetic" and "piteous" are adjectives to describe something/someone pitiful. However, the former has a more negative connotation compared to the latter. In Korean, some words share a similar relationship.
Learning vocabulary by understanding the context teaches you valuable comprehension skills you will need while conversing with others. A dictionary or online translation may not accurately capture the nuances unique to the Korean language. Figuring out the gist of any context is the most effective way to familiarise yourself with a new vocabulary.
3. Sing along with the song to hone your pronunciation
After listening to the song a couple of times, start singing along! A study has proven that the listen-and-repeat singing method can facilitate your foreign language learning, especially Korean. If karaoke night is the highlight of your week, why not put your love of singing into practice by honing your Korean pronunciation in the comfort of your own home?
For starters, note how the singer pronounces each word and try to imitate the various intonations during your practice. This can help you to mimic a Korean accent as closely as possible. To improve your memory retrieval process, you can also create new sentences using your newfound vocabulary.
4. Play the song on repeat to internalise its meaning 
Ever had a song stuck in your head? When it comes to memorisation, music is an effective learning tool. Your brain processes new information faster when the auditory cortex is stimulated, so feel free to play your favourite Korean songs on loop! Most Korean songs tend to repeat the same vocabulary in the chorus, which will help you to recognise them quickly.
By listening to the same song consistently, you are internalising the different meanings of your new vocabulary and familiarising yourself with their respective contexts. Aside from quickly expanding your Korean vocabulary, you will also get to sharpen and strengthen your listening comprehension skills.
Conclusion
Even the best student can get frustrated and hit a roadblock while learning a new foreign language. If this occurs to you, you may want to consider an alternative approach to learning Korean. Listening to your favourite Korean music while honing your language skills can be an effective way to keep you motivated and interested in mastering it.
At ONLYOU, learning Korean is a fun and enjoyable process. We aim to incorporate non-traditional teaching methods, such as K-pop, to give students the best learning experience possible. So sign up for our lessons today and revel in the benefits of mastering a second language!