A Guide To Different Types Of Jeon: Korea's Savoury Pancakes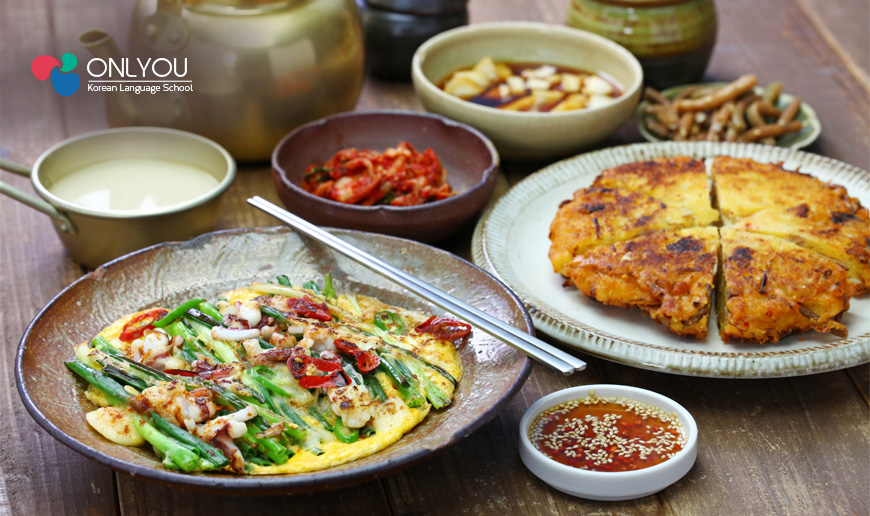 Jeon, also fondly known as Korean savoury pancakes, is one of Korea's most beloved local delicacies. Pan-fried with a myriad of ingredients, such as meat, seafood, and vegetables, this crispy flour-based dish is the epitome of what Korean cuisine is all about – colourful, harmonious creations starring a multitude of rich flavours.
Aside from being traditionally prepared on festive occasions like the Korean New Year, this fritter is also commonly served during meals as either an appetiser, dessert, or anju (drinking snack). When it comes to anju, Koreans enjoy indulging in a heavenly combination of Jeon and Makgeolli (milky Korean rice wine) as they help to whet one's appetite.
But it is during the rainy season when Koreans particularly crave this comfort food, gravitating towards Jeon speciality restaurants on colder days. The reason behind it is simple: the mesmerising sound of raindrops beating on the rooftops reminds Koreans of oil sizzling in the pan while the tasty pancake is fried.
If you intend to prepare Korean food for your loved ones, you may want to be well-acquainted with the likes of Jeon. Let us share the various types of Korean pancakes that you should check out.
1. Pajeon (파전)
Pajeon, also known as spring onion pancakes, is one of the most common menu items available across Korean restaurants in Singapore. As its name suggests, Pajeon predominantly features ingredients such as "Pa", also known as spring onion in Korean. For home cooks, preparing this delicacy at home is incredibly straightforward. First, use eggs, wheat flour, and rice flour to create a thick batter. Next, toss some finely chopped spring onions into the mixture – now your dish is ready to be pan-fried!
While its appearance resembles its Chinese spring onion pancake counterpart, Pajeon is less dense in texture – making for a lighter midday snack. Serve it with a dipping sauce derived from a combination of soy sauce and vinegar, and the steps to preparing a Pajeon is complete. Furthermore, as with most Korean dishes, you can tweak the recipe to suit your taste buds. For example, you may choose to swap out the vegetables for fillings like kimchi or seafood instead.
2. Kimchijeon (김치전) 
Kimchi is a staple ingredient omnipresent in every Korean household. If you fancy yourself an expert on Korean culture, then you will know that kimchi is an indisputable dish served at nearly every meal. The Korean's love for kimchi dates back centuries ago when their ancestors first experienced agricultural issues during the winter. This led them to discover the wonders of preserving vegetables, namely kimchi. And upon the first taste, Koreans have been enamoured with kimchi ever since.
Thus, kimchi was prized as Korea's national dish due to its past origins, which is steeped in rich tradition and history. This fermented cabbage is now featured across diverse dishes as many Koreans crave its sour and pungent taste, and Kimchijeon is no exception. In fact, Koreans enjoy preparing Kimchijeon as an appetiser at home as not only is it easy to make, but it is a snack that truly embodies the essence of Korean cuisine. The steps are similar to how you would go about making a Pajeon, but rather than using spring onions, substitute them with kimchi instead.
3. Gamjajeon (감자전)
Introducing the Korean version of the Swiss dish Rösti: Gamjajeon. Yet another variant of Jeon, this Korean pancake is made with either grated or puréed potatoes before being pan-fried with vegetable oil. Gamjajeon is a speciality of the Gangwon Province in Korea as quality agricultural produce, mainly potatoes, is cultivated in that region's hills and mountains.
Compared to other Korean pancakes, preparing Gamjajeon is slightly different. Did you know that this Korean fritter does not involve any flour in its batter during the cooking process? On the contrary, the only ingredients you need to make Gamjajeon are potato, salt, and vegetable oil. You can even supplement the batter with additional fillings such as shredded carrots, onions, or spring onions to elevate its flavour and texture.
4. Hobakjeon (호박전) 
There is no better dish for the summer than a comforting plate of Hobakjeon, also known as fried zucchini pancakes. Although the word "Hobak" in Korean typically refers to pumpkin, in Hobakjeon, the dish is prepared with summer squash zucchinis, which is also known as ae-ho-bak in Korean. While the dish's name is technically Aehobakjeon, the Koreans tend to shorten it to Hobakjeon. In contrast to other Korean pancakes, which are served in larger portions, Hobakjeon is smaller in size. This makes for a great snack amongst toddlers, as this pancake can easily fit into a lunchbox.
Additionally, as it is a vegetable-based Korean pancake, Hobakjeon is relatively low in calories, resulting in a healthier snack alternative. It is also great for vegetarian diets. When preparing this dish for your family, a tip is to source the freshest zucchinis available in the market. This is because zucchini is the main star of Hobakjeon, and you will want to ensure that your vegetable has maximised freshness for richer flavours.
Conclusion
These are just a few examples of the crowd-favourite Korean pancakes that both Koreans and tourists alike enjoy. While you may find a diverse range of Korean-inspired pancakes available in the numerous Korean speciality restaurants located in Singapore, nothing beats savouring authentic Jeon in the Land of the Morning Calm.
If you are interested in learning more about the country's cuisine and rich history, why not consider enrolling in our Korean courses? At ONLYOU Korean Language School, our dedicated team of teachers rely on non-traditional teaching methods, such as incorporating K-dramas and K-pop songs into our classes, to make your learning process much more engaging. Enjoy learning a new language and culture with a group of like-minded individuals as you connect over your shared interest in everything Korea.