4 Ways To Integrate Learning Korean Into Your Daily Life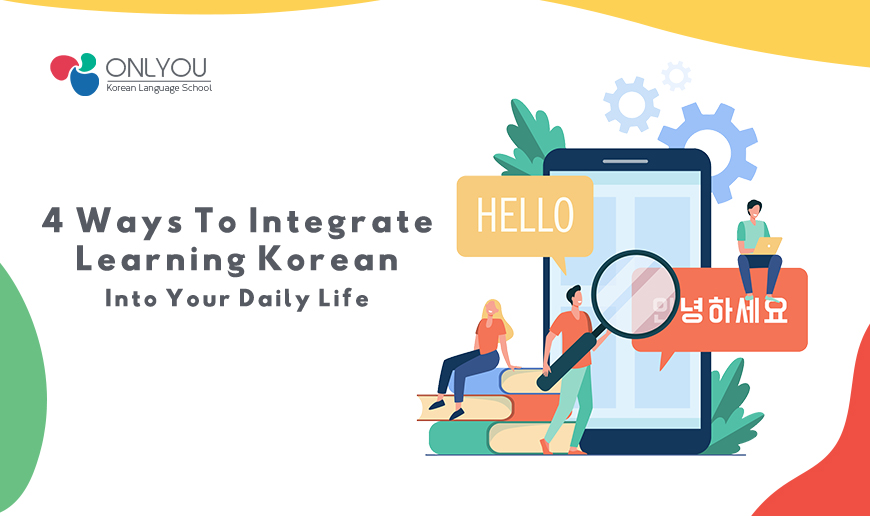 Taking up Korean lessons is only the first step in your Korean learning journey. If you wish to retain the new vocabulary taught by your teachers, then you need to practice what you have learnt regularly.
However, it is unlikely you will find plenty of opportunities to practice your Korean outside of the confines of the classroom unless you have friends that speak the language as well. Therefore, to ensure your skills do not get rusty, it is advisable to incorporate the learning process into your daily life. Not only is this an effective way to master the language quickly, but it is also simple to implement. Let us share how you can do.
1. Consume Korean media
Who says learning can't be fun? There are various non-traditional learning methods you can incorporate into your daily life. In fact, you might already be doing so without you realising. When you are watching your favourite K-dramas on Netflix or listening to the latest K-pop hits on Spotify, you are also brushing up on your Korean language skills.
Korean media is an excellent tool for learning the language. Due to the popularity of Hallyu and the proliferation of the internet, it has never been easier for Singaporeans to gain access to Korean entertainment. Furthermore, hearing the actors speak in their native tongue gives you a better idea of how the words are supposed to be pronounced.
If you are not proficient in Korean, you can turn on the subtitles to understand the dialogue. Once you have a better grasp of the language, then you can consider turning them off.
2. Jot down unfamiliar words
It is handy to jot down unfamiliar words when you are learning a new language. When you are brushing up on your Korean language skills, you are bound to come across a word or two that you are unfamiliar with. During these times, it is helpful for you to jot the words down before you forget about them.
What's more, with our smartphones, it has never been more convenient to do so. Our phones contain a notepad app, so we can just whip these handy devices out from our pockets whenever we need to write something down. You can then clarify your doubts with your teacher or look them up online.
A helpful online resource is the NAVER Korean dictionary, which allows you to translate English into Korean and vice versa. This dictionary is also available as a free mobile application on Apple's App Store and Google Play Store. Now, you can quickly clarify any unfamiliar words you encounter on the go.
3. Memorise a few phrases each day
We can understand the desire to master Korean as quickly as possible, but learning a new language requires time and patience. While it is tempting to try and memorise as many new phrases as possible, doing so is often detrimental as it only increases the likelihood of you forgetting them.
Instead, it would be best to focus on the common phrases that frequently appear during a conversation. Once you have committed these words to memory and are confident in using them in your day-to-day conversations, you can then move on to the next set of phrases.
4. Use a language app
Our smartphones have become an essential item we always carry with us. We can pay our utility bills, shop for groceries, and even stream our K-dramas with these devices. So why not consider practising your language skills through your phone as well?
There are various language applications online, such as HelloTalk and Duolingo, that you can download into your mobile devices. You can practise your writing and communications skills by participating in the mini-games or short tests these apps offer. The best part of using a language app is that you can learn on the go. Whether you are commuting to and from work or having your lunch break, you can access the app and begin practising Korean.
Conclusion
Learning a new language, such as Korean, requires time and patience. Therefore, it is advisable to practice Korean regularly so you can retain the lessons you have learnt. We hope these tips can help you better incorporate the learning process in your daily life so that you can master the language at a quicker pace.