Astonishing Cultural Facts You Should Know About South Korea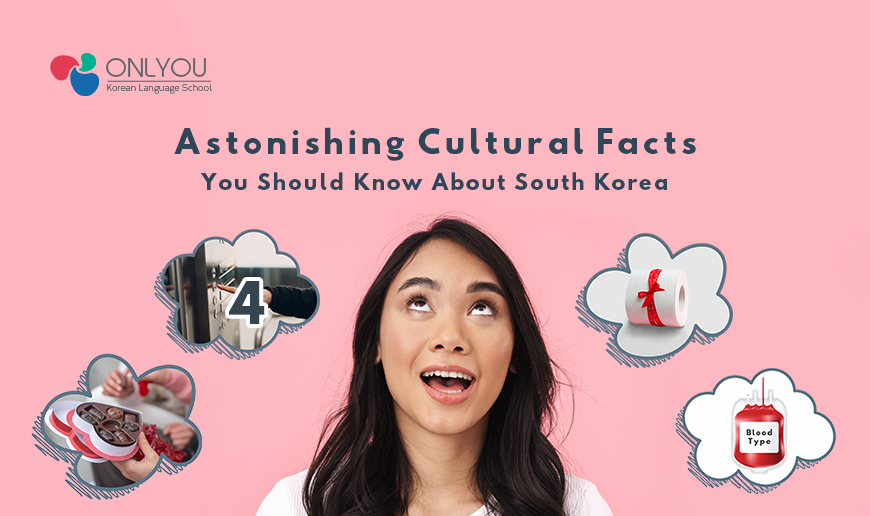 Over the past decade, since the Korean wave, Hallyu, took the world by storm, South Korea has been championed as the number one travel destination for many. But aside from its vibrant music industry, picturesque scenery and heavenly cuisine, South Korea's rich cultural identity also plays a massive part in drawing in the crowd.
Korean customs and traditions are chock full of exciting notions most are unaware of. So, if you fancy yourself an expert in all things Korean, let us put your knowledge of the nation's culture to the test and see how you fare in predicting these surprising facts about the Land of Morning Calm.
1. Your blood type determines your personality traits  
When getting to know someone in Korea, it is a cultural norm to ask someone, "What is your blood type?". This is because some Koreans believe that a person's blood type is predictive of one's personality and temperament, similar to horoscopes in the West. They associate blood type with likeability, health status, and romantic compatibility.
Let us share what personalities each blood type represents:
Type O individuals are outgoing, confident, and natural-born leaders.
Type A individuals are earnest, sensitive, and cautious.
Type B individuals are creative, optimistic, and self-centred.
Type AB individuals are rational, unpredictable, and are deemed either a genius or a psycho, depending on whom you asked this question to.
2. Four is an unlucky number 
Known as tetraphobia, South Koreans steer clear of the number four as they equate the number to unholiness and misfortunes. This superstition stems from China, where the number 4 is pronounced similarly to the Chinese word for death, '死'. Similarly, in Korean, four is pronounced '사 [sa]', and the character also appears in the Hanguel for death, '사망[samang]'.
This belief also affects the way business is done in the country. Should an establishment hope to succeed, its corporate phone numbers or office addresses must void this unlucky number. Certain buildings in the country do not have a fourth floor either, replacing the number with an "F" – especially the elevators found in hospitals.
3. Newborn babies are automatically a year old at birth 
One of the various unique customs in Korean culture is that newborns are deemed a year old at birth. This is because they take into account the year that a fetus approximately takes to grow in the womb. In fact, for hundreds of years, South Koreans have always used a different method – the Korean age – to count age as compared to other parts of the world.
This means that every Korean gets a year added to their Korean age on New Year's Day. However, should a baby be born on New Year's Eve, he or she becomes two years old when the clock strikes midnight.
4. Valentine's Day is for men  
Did you know that Valentine's Day in Korea is celebrated differently from elsewhere in the world? On the 14th of February, girls dote on their boyfriends by pampering them with chocolates and gifts. In return, the roles are reversed on White Day, and men proclaim their love for their girlfriends with sweets.
Valentine's day is also observed as one of the 12 "love days" celebrated on the 14th of every month. These days are all about celebrating romance, and they include the singles-only Black Day and highly anticipated White Day, which falls on 14 March and 14 April, respectively.
5. Cleaning supplies symbolise prosperity and wealth in a new house    
According to local folklore, cleaning supplies and tissues are excellent housewarming presents. Back in the day, these household essentials were considered luxury items, and they still hold significance to this very day. Likewise, simple everyday necessities, such as a roll of toilet paper, or even laundry detergent, have their cultural connotations.
For instance, detergent symbolises a pure home, and its round bubbles represent wealth and prosperity. It is a blessing for the new homeowners to have a clean and prosperous place to live. Rolls of tissue or kitchen towels also convey the giver's desire for the recipient to have a smooth-sailing life and everlasting success.
Conclusion   
If you are fascinated by these cultural facts and want to learn more about South Korea's unique culture, you should consider signing up for ONLYOU's Korean lessons. Understanding the Korean language can help you better grasp the country's vast culture and traditions as various nuances can be lost in translation.
In addition, we constantly seek to incorporate cultural events into our Korean classes so our students can learn about the Korean language and the nation's fascinating history at the same time. If this sounds intriguing to you, hurry up and sign up for our Korean beginner courses now!